To Chad Or Not To Chad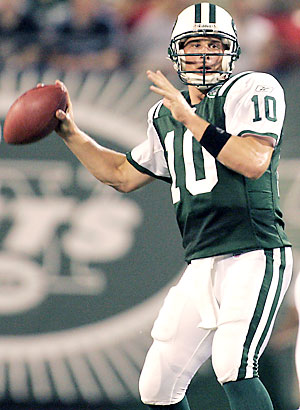 By Gregg Hayim
Being as I see the subject discussed about as often as I hear "This Is Our Country� played during an ABC televised sporting event, I figured hey, its March, I don't have much else to do, why not throw another log on the fire?
Over and over we toss the questions back and forth amongst ourselves. Should Chad Pennington be the Jets starting quarterback? Does his lack of arm strength create a debilitating offensive dilemma? Is Clemens a suitable replacement? The constant back and forth between those Pro-Chad and those who take a stance toward the contrary seems to continue to, without the slightest hint of slowing, gather steam on a weekly basis. Being as the firework display that was Free Agency has seemed to subside, I figured now would be as good a time as any to further explore the issue.
 
As a devout fan of New York sports, hardly can I remember an athletic figure with a polarizing effect to the extent of Chad Pennington. When it comes to New York Jet fans and their opinion toward their quarterback, there are really only two varieties: Those who love him; and those who hate him; and often these feelings take alternate shifts given the outcome of the afternoon. It's an interesting scenario considering the man's resume on paper: A career record of 31-22; a career completion percentage of 65.1, second all-time only to Kurt Warner; this years NFL comeback player of the year and a guy who, when healthy, has proven to be a good bet to take the team to the post-season.
But, if there is one thing I think we all can agree on, it's that numbers are often deceptive. A Jet fans definition of success, and rightfully so, is not a 'one and done' playoff appearance. There is good reason why the word "torment� is so often used when describing the feelings of being a Jet fan. There has been so many 'almosts' and 'not quite their's' that thought of another era filled with ten-win seasons and first round exits hardly excites the fan base.
The Jets are not the Detroit Lions or the Pittsburgh Pirates; this is not an organization that has proven to be content with mediocrity. Rather, it's a team that has been spinning the wheel to the same safe for nearly forty years, still unable to stumble upon the right combination. A thirty-eight year championship drought; to New York Jet fans, success will only be defined by a championship.  And this is precisely why the issue of Chad Pennington has become so combative.
The issue becomes not whether or not Chad Pennington is a suitable quarterback; he most certainly is. He has terrific field presence, a tremendous intelligence level and, when on his game, looks at times too be playing a chess match with a table full of queens. However, in my opinion, the rift stems not from his successes, but rather from the manner in which he achieves them and how this manner adapts to post-season play.
Long ago was the lack of arm-strength exposed. Every football fan from Hempstead to Hawaii knows that Chad Pennington's arm is about as strong as the punch bowl at an AA meeting. Short passing, good decision making, and a minimization of mistakes; this has been his MO; and it has worked, to a point.
With ability to throw, or just as importantly, threaten to throw the deep pass, not in the arsenal, Pennington has become a safety's dream. Defensive coordinators know that they have free reign to drop their safety into the box and have their corners play up and aggressive, the threat of the deep pass simply isn't there and subsequently the margin for error has been significantly shortened.
A corner misses against Chad, he gives up a first down and lives to play another down. That same corner misses against Brett Favre, he's beat for six and possibly out a job. The Worst case scenario is bad, but it's not that bad. And that inability to stretch the field puts a lot of pressure on precision. Luckily, for Jet fans, the downside to such aggressive secondary play has been Pennington's ability to be as accurate as he has. Routinely, his regular season play has been on the money; often floating a ball within inches of outstretched defenders, placing it into a receiver lap and continuing to efficiently move the chains and manufacture W's.
With all this said, what then is the problem?
The problem is this: his style of play has inherently become so reliant on precision and timing that the ancillary cost of perfection has become an imperative component to winning. And perfection, over the course of a post-season run, is tough to find.
Defenses get aggressive, safety's become even more ferocious and those same beautiful floaters that were, three weeks earlier, so perfectly placed, now become lame ducks waiting for that salivating defender to attack.
Those weaknesses that were once successfully camouflaged during regular season play transform themselves into an insurmountable roadblock once the dynamics of post-season play begin. Without the arm strength to throw his way out of trouble, perfection becomes a necessity and, unfortunately, perfection in December is a rare commodity.
When it comes to this new era of New York Jets football, one thing is certain. The Mangini/Tannenbaum combo will undoubtedly not be remembered for their wins and losses, but rather for their ability to either win or not win a Super Bowl; and at some point they are going to have to address the question of not whether or not Chad Pennington is capable of helping the team win, but rather, is Chad Pennington capable of helping the team win a championship?
Discuss it, again, here.
Videos
New York Jets OTA Presser Takeaways, Aaron Rodgers' Impact and Summer Delusion