JetNation Premium NYJ Draft Preview Extravaganza

By Bitonti
Gather round Jets fans as spring is here. It is about four weeks to draft day, the New York Jets pick at 25 overall, late in the first round, and unlike recent years under old regimes, who exactly the draft pick will be is still a mystery. Weeb Ewbanks Hall is maintaining radio silence and fans are left wondering, who will it be? Well as we are all premium in the eyes of Jet Nation, brothers and sisters please sit back, grab a beverage of choice and let your worries go away. It's draft preview time, as in years past the format will general theory behind the selection, followed by Vegas style odds by position: Who will be the draft pick? Invoking the still living spirit of Mills Lane "let's get it on!�
Every franchise values different positions differently. For example the Oakland Raiders want nothing to do with 1st round quarterbacks, but will take 1st round kickers. 31 other teams disagree on both counts. It might be crazy but Al Davis owns the team and no one is going to take it away from him while he still has life in his body.
The Eagles in Philadelphia probably should draft a defensive end or linebacker in round 1 but will do anything to avoid that fate. Instead they sign DE Jaqua Thomas long term, make a trade for LB Takeo Spikes and that allows them to follow their true draft tendencies. If history is a guide, Andy Reid will probably draft a defensive back from Florida or Utah.
That's one reason why the NFL draft is so great it's a true system of uncertainty with some predictable trends.
So what's the short recent history for the NYJ? OL got two big deals last year, and DL has two giant contracts as well. The Jets pay a-lot of money to offensive and defensive linemen.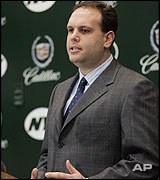 The New York Jets have an accountant as a General Manager. We fans all have to remember that as fact number one, the key that can help to reveal the future. Predicting what the Jets do in the draft is a matter of not only who is the best prospect but where the team wants to invest money going forward.
We could look at that situation and remark, "they will direct new contacts to other positions from now on…they have too much money invested already in the offensive and defensive lines.â€?
Or contrarily, one could look at it and say, "this is a trend, the NYJ value these positions more than other teams do and will go back to that well, until both units are dominant. Both views have validity and their impact will be reflected in the odds to follow.
Besides the fact number one that the team has an accountant for a general manager, fact number two is that the Patriots will probably select a player Jets want at 24, the Deion Branch to Seattle pick. The Jets are in their heads and these teams have similar needs and cultures.
So please do keep that in mind on draft day. The guy who you've been targeting all draft season and waiting all afternoon for will probably get picked at 24, one pick shy of the Jets pick, likely ruining your day. Plan for this contingency as it's highly probable. The Pats also pick at 28, allowing them to take you wanted but hoped would be there a round later, no one said life was fair or easy.
Here is a look at the players themselves in terms of position, value and who may be on the board:
Offensive Line 6-1
The Jets have a problem at right tackle but there are no true right tackles likely at that position of the draft, maybe in another round or another draft, they solve the problem, but for now Clement is the guy. Another problem are the guard positions, as Moore is unreliable and Kendall is aging. The economics of football have changed in recent years, and guards are now highly sought after players. Ben Grubbs from Auburn and Justin Blalock from Texas are both borderline first rounders, there is a dispute on these boards about which guard is better. Both are very good guards. Grubbs is a very effective pass protector and a rare athlete, probably won't be on the board when the picks hit 50. However Justin "Big Bank" Blalock will be a better run blocker at the next level than Grubbs, and that makes him a better fit for the NYJ needs than Grubbs. He's probably smarter than your favorite college professor, blocks downhill and works really hard. Those trap plays at Texas were things of beauty. Grubbs is an effective player, Blalock is a dynamic player and worth the 25 pick.
Defensive Line 7-1

Two months ago a common projection was that Nebraska's Adam Carriker would be a New York Jet at 25. The thinking was correct from the perspective of player matching team need and culture. However his stock has risen to borderline top 10 status and the chances are slim he would make it all the way to where the Jets pick. A pre-draft drop is possible, however unlikely, as is a trade up, which is not impossible.
Another player who fits the mold here is Tennessee's Justin Harrell, who rebounded from a torn bicep in the fall to put up 225 pounds 31 times at his pro day. For those that don't know the story, Harrell played in tremendous pain with that torn bicep in the Florida game, one week after it occurred, knowing that his team's season was on the line. The Vols lost by two but Harrell impressed a lot of people that day, this writer included. Harrell's stock has risen to about that point in the draft, isn't likely to get selected higher than 25 and beside fitting the Mangini requirements of toughness and pain tolerance, could fill in several defensive line roles.
These defensive line odds are skewed higher by the inclusion of defensive ends who could be turned into OLBs such as Florida's Jarvis Moss, Georgia's Charles Johnson and Purdue's Anthony Spencer. Spencer is this writer's personal favorite as he is a blue collar, hard working player with a very good size speed ratio and a knack for getting to the quarterback. He's a natural pass rusher and proved it at Mobile. Again, as we get closer it is not unthinkable that a 3-4 team like Pittsburgh makes what public perception would judge a reach pick (but was actually astute) and Spencer isn't on the board. Looking around at franchise player tags and free agent signings, it's not hard to notice that the league values pass rushers and the Jets need to improve that area.
For those who are comfortable with the defensive line, note that the signings of Andre Wadsworth and Michael Haynes are serious lottery tickets and David Bowens turns 30 this year. Even if Coleman from Dallas turns out to be a great player, they still need more for the rotation. Teams have trouble just finding players for this position, it usually requires draft picks to upgrade. If they don't go DL in the first, it is because they will probably go DL in the second, looking at players like Michigan DE Lamarr Woodley, Mississippi State's Antonio Johnson, Cal's Brandon Mebane or Florida's Ray McDonald..
Defensive Back 8-1
CB will likely be the value pick at that point and have been a popular draft projection in mocks. Possible names include Arkansas' Chris Houston, Pittsburgh's Darrelle Revis, Michigan's Leon Hall and Texas' Aaron Ross. All of these players are arguably higher in terms of "draft value" than players like Harrell or Blalock, I can agree with that statement wholeheartedly. I also agree that behind Dyson there isn't a whole lot of reliable options on the roster, that's another legitimate reason for the pick. Setting these odds higher for CB than OL and DL is due to the following reasons: First, Mangini has shown a talent for finding defensive backs from the scrap heap and making them good players. To take a first round CB might be squandering this ability to fill this role on the cheap. Two, the cornerbacks are in fact hot properties and not all of these names will be on the board at twenty five. The Jets might be faced with a choice between the 1st OG or the 6th CB, who will be the better player?
Wide Receiver 11-1
If the Jets took a WR in April he would likely be ready to break out two or three years from now, as the great warrior Coles hits up against his 10th or 11th season. While Cotchery is a playmaker as well and both players were originally 3rd round picks, if the Jets want to find a large target #1WR and the right one falls, there's no time like the present. There's always a player who can throw a monkey wrench into the best laid pre-draft planning and the case can be made that WR such as LSU's Dwayne Bowe would be the BAP (best available player) at that spot. Chad Pennington hasn't had a WR target who can win jump balls on fade routes since Randy Moss his junior year at Marshall. The rest of the crop past Bowe all have questions and might not be worthy of the Jets going against their trench tendencies.
Tight End 13-1
Miami's Greg Olsen is another player popularly projected to the Jets in mocks. Besides the real possibility he could be off the board by 25, Olsen doesn't really fit the mold of Mangini player. He has under achieved based on his pedigree and talent, he declared from college early and only had 1 TD this year. The Jets do need a big target though and it's not impossible, just unlikely.
Running Back 17-1

Cal's Mershawn Lynch could have a Stephen Jackson-like fall but if that occurred the Jets would likely pass due to character concerns. Rutgers Brian Leonard would be a pleasant surprise for the home crowd but this could be too early to draft someone who would be their short yardage RB/receiving FB type of player.
Linebacker 19-1
Note that the players who would play pass rushing 3-4 OLB are considered with defensive line prospects. This preview is considering players under 240 pounds who have first round value in this category such as Florida State's Lawrence Timmons. The Jets are deeper at LB than most are giving them credit for, and even if they weren't these player just aren't valued as much by those teams most of the time. They will convert DE, use middle round picks and sign free agents to upgrade, I'm not sure the fans will see another top 15 pick like Vilma was at the position as long as Tangini is here.
This concludes our odds section and for that matter, this draft preview. Take heart Jets fans, even if this report, your best possible attempt at prediction proves wildly inaccurate, whoever the Jets pick in round 1, this writer will personally trust the pick. After last year's draft, these guys earned it.
Matt Bitonti is the publisher of http://Draftdaddy.com
Videos
NY Jets OTA Recap; Robert Saleh Cancels Minicamp