Lincoln Kennedy In The AFL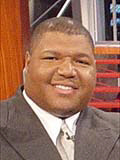 By Gregg Hayim 
Lincoln Kennedy's Tampa Bay Storm play host to the Columbus Destroyers on Saturday June 30th, 12:00PM ET.ON ESPN
In 1993, 6 foot 7, 350-pound Lincoln Kennedy- a man who makes at least three of the seven continents seem petite in comparison- stepped onto the field as a first-round pick of the Atlanta Falcons with a goal in mind; to play 12 seasons of professional football. Eleven years later, he walked off the field an Oakland Raider, one shy of completing the mission.
After three seasons of work in the broadcast booth, off-the field but not yet completely removed from the game, Kennedy began to regret his decision. To a man as passionate as Lincoln Kennedy, the playing-bug is not easily remedied. Kennedy decided to hit the weight-room, get back into shape and give the game one last go-around. As luck would have it- for Arena Football fans that is- that final season would be played as a member of the Tampa Bay Storm.
Truth be told, Lincoln Kennedy didn't think much of the Arena Football League. After all, what can a former top-10 draft pick, a two-time all-pro and one-time almost Super Bowl Champion (2002 Oakland Raiders) learn about the game of football that hasn't already been taught. For starters, how about to never underestimate the talent that resides on the fast-tracked AFL field. "After being in this league and seeing the talent level, it makes me appreciate what these guys do, and I have the utmost respect for them� Kennedy was quoted as saying to Gary Bond of Pro Football Weekly.
When Kennedy first put on his AFL helmet, he expected the hard hits and ferocious play that inherently accompanies a battle in the trenches- wherever those trenches may be. What he didn't expect was the element that all who have witnessed the exhilarating game of Arena Football swear by, the pace. "The biggest shock for me was the speed of the game� remarked Kennedy. "And because it's played on a shorter field and everything is cut down, you can't hide a player like you can in the NFL.� Indeed, you cannot. The 50-yard field provides the ideal canvas for the high-octane arena artists to display their world-class talents; and in this world, speed serves as the perfect primer.
When Lincoln Kennedy steps onto the field Saturday afternoon- playing in his first post-season game in over five years- he will have already achieved his goal of playing 12 seasons of professional football. Lincoln Kennedy now sets his sights on a new goal, a ticket to New Orleans and a chance to play for an Arena Bowl Championship- his first as a pro.
Videos
New York Jets OTA Presser Takeaways, Aaron Rodgers' Impact and Summer Delusion