Training Camp Questions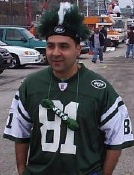 By Tyson Rauch 
As the dog days of summer are flying by the anticipation for training camp is building up across the country.  There are high hopes for many teams in the NFL as is the case with the New York Jets who are coming off a playoff season.  Lets take a look at some of things to watch for in training camp and in the preseason.
1.  What have the Jets done to improve their rush defense? The offseason signings of David Bowens and Kenyon Coleman as well as highly touted draft class of David Harris and Darrell Revis should help, but is it enough? Also will Dewayne Robertson in his second year under Coach Mangini be able to break out in this defense?
2.  What have the Jets done to improve their running game?  Sure the Jets acquired a pro bowl caliber running back in Thomas Jones but his success is contingent on the line play in front of him.  With Pete Kendall's status up in the air, there could some problems on the offensive line with unproven players filling in for him.
3.  Who will win the backup quarterback spot?  Gang Green fans appear to have anointed Kellen Clemens as the second coming of Joe Namath but there have been some rumblings that he is struggling in the new system.  Newcomer Marques Tuiasosopo could be a surprising important acquisition.
4.  Can Jonathan Vilma make an impact in this defense?  Vilma's struggles have been documented and the questions still remain on how effective he can be in Mangini's system.  He was often found being consumed by blockers and arriving late to plays.  With a year under his belt can he adjust or will the Jets have to move him?
5.  Who will win the 3rd wide receiver spot?  Many fans have written off Justin McCareins but it appears he may have gotten back into the good graces of the coaching staff.  Will Brad Smith or Tim Dwight be able to make an impact this year?
Parting Shots:
1.  What is the over/under on the amount of fans that will arrive at the stadium without a parking pass?
2.  At what point should the Jets give Kerry Rhodes an extension and how will that impact Jonathan Vilma?
3.  If Chad Pennington has a big year what should the Jets do with him financially?
Videos
NY Jets Phase 3 OTAs, Expectations and a Minor Calf Tweak with Greg Renoff