Fantasy Football RB Rankings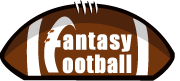 By Leighton Clark 
1. LaDainian Tomlinson, San Diego
Last season, when everyone had some combination of Alexander/Johnson as their #1 RB, I had Tomlinson. Just saying. Because, really, what am I supposed to say? "He should have a solid season!"
2. Steven Jackson, St. Louis
He says he wants to get 2,500 total yards this season. More power to him. Honestly, I was higher on Jackson back in January, before the Rams went into the offseason ignoring that their defense is terrible and decided to give Marc Bulger more weapons. Jackson will still have a great year, and he is the safe pick at #2.
3. Shaun Alexander, Seattle
Now, here's where it gets slippery. In my eyes, the only two slam-dunk picks of the 1st round are Jackson and Tomlinson. Everyone else carries some major question marks. Alexander is no exception. Last year, Alexander was injured and ineffective. This year, he appears to be healthy, but at age 30, how effective can he really be? In the final six games last year, Alexander averaged 112 yards per game and scored 5 touchdowns, so, despite a poor season by his lofty standards, it's apparent that Alexander has some magic left in his legs.
4. Joseph Addai, Indianapolis
With Dominic Rhodes out of the picture, Addai now has the opportunity to slip into Edgerrin James' old role of fantasy beast. Tony Dungy claims he doesn't want to place a full load on Addai's shoulders, but if he was truly serious, why is DeDe Dorsey their backup running back? Addai will get the lion's share of the carries and amass 1,300+ rushing yards and double-digit scores.
5. Frank Gore, San Francisco
The Gingerbread Man's success was one of the biggest fantasy surprises of the 2006 season. Gore went from being a backup at the start of training camp, to leading the NFC in rushing with 5.4 yards per carry. However, Gore does not come without questions, namely injuries, fumbles, a lack of touchdowns, and a new offensive coordinator. The offensive coordinator part really doesn't impact Gore, as I doubt he even understands it. I am surprised they don't have to put up stop signs in the end zones to keep him from running through the walls. But, the change in coordinators could affect QB Alex Smith, which could, in turn, affect Gore. The lack of touchdowns should be remedied, assuming Gore can stay healthy. Former Penn St. quarterback and primary backup Michael Robinson was ineffective at the stripe last season, so unless he fumbles it away, expect Gore to increase on his scores from a year ago.
6. Larry Johnson, Kansas City
Ah, here we go. Johnson has absolutely nothing working in his favor, but his insane production over the last two seasons forces him to be taken this high. Where do we begin? His decrepit offensive line? The fact that he set an NFL record for carries last season? The possible return of Priest Holmes? The fact that his head coach makes Jack Del Rio look like Vince Lombardi? I really don't think Johnson missing most of training camp hurts him. He didn't have to take any preseason punishment, and it's not like he needs to learn the offense. I am pretty sure anyone who has watched a Jets or Chiefs game over the past six years knows the offense. If everything falls into place, he will be a steal this low. If it doesn't, well, who's gonna be shocked?*
*Besides Herman Edwards.
7. Travis Henry, Denver
Injuries? Check. Suspension if he screws up? Check. Fantasy Satan as his head coach? Check. Denver's offensive line and a contract so rich that even Lucifer himself will not screw fantasy owners over? Check. The Broncos paid Travis Henry for a reason. In the past, Mike Shanahan has opened up his black heart to Clinton Portis and Terrell Davis. He will do the same for Travis Henry, and T-Hen will excel. Fresh off a fantastic season in which he tricked a nation full of ESPN viewers into believing that Vince Young is a good quarterback, Henry will have the best season of his career in Denver's zone blocking scheme. That's if he doesn't get injured or get caught smoking dope.
8. Rudi Johnson, Cincinnati
Rudi has been the model of consistency for the past three seasons: 1,300+ yards and 12 touchdowns on the nose in each of the last three seasons. However, last season, it appeared that the massive workload might be taking a toll on the former War Eagle. He failed to rush for 1,400 yards for the first time since taking over for Corey Dillon, and his yards per carry dipped from 4.3 to 3.8. The Bengals did suffer through a few injuries on their offensive line, but there was a reason they drafted Kenny Irons in the second round this year. Even though Irons is out for the season now, it still shows that the Bengals are wary of Johnson breaking down. He should still be good for his customary 12 touchdowns, but bear in mind that none of them will be pretty.
9. Willie Parker, Pittsburgh
Parker is like a tinier version of Larry Johnson, minus the holdout. This offseason, the Steelers hired the next Herman Edwards in Mike Tomlin, an unqualified cover 2 disciple with only one year of coordinator experience (for one of the league's worst pass defenses). The Steelers offensive line is also slowly falling apart, with All-Pro center Jeff Hartings retired and All-Pro guard Alan Faneca disgruntled. The team also lost offensive line guru Russ Grimm to the Cardinals, and are installing a new offensive system that should feature more passing. That could mean a bigger year for Ben Roethlisberger, Hines Ward, Santonio Holmes, and Heath Miller, but it doesn't bode well for Parker. I also expect Najeh Davenport to have a more active role, meaning less carries for Parker. To top it all off, in weeks 14 and 15 (1st and 2nd round playoff weeks), Pittsburgh takes on New England and Jacksonville. Last year against Jacksonville, Parker ran for 20 yards. Then again, he laid an egg against every good defense he faced. Luckily for Parker, he has a relatively easy schedule leading into his week six bye week. That's when you trade him, as his value will never be higher.
10. Laurence Maroney, New England
Vagasaurus Rex has all the talent around him to be a great fantasy back. The major question is, of course, whether he can stay healthy. He's certainly an explosive runner and he will be given every chance to put up big-time fantasy points, because Bill Belichick ****ing loves fantasy football. Last year, he had 1,722 total yards while splitting carries with Corey Dillon. While it's highly unlikely he'll be returning kicks again, he could match that total in yards from scrimmage this season. That is, if he can go 16 whole games without breaking a fingernail.
11. Brandon Jacobs, New York Giants
Alright, here we go: the first real head scratcher. I admit it. I love Brandon Jacobs. I wish he was my brother. Fantasy football is all about scoring touchdowns. It is not about who scores touchdowns the prettiest (see #12). And Jacobs is a certifiable lock to score double-digit touchdowns. I know people are scared of Jacobs because he has never carried a full load and the team also brought in Rueben Droughns in the off-season. First of all, Joseph Addai has never carried a full load either. Not even in college. Second, Rueben Droughns? Seriously, Rueben Droughns? Maybe you should avoid Maroney too, since they brought in Sammy Morris.
12. Reggie Bush, New Orleans
Bush did the opposite of most rookies, as he seemed to hit a wall for the first 12 weeks of the season, then broke out in the final 5. He should carry that momentum into this season, which should equate to more touches. Even when he was struggling last season, Bush was still insanely valuable in PPR leagues. In a point-per-reception league, I would probably take Bush as high as 5th, dropping Alexander down the board because he is allergic to catching passes. Bush could catch 100 passes this season.
13. Brian Westbrook, Philadelphia
Westbrook has never played 16 games in a season. He is also coming off his FIRST career 1,000 yard season. While Westbrook is certainly an electrifying talent, his flared-up lady part would make me extremely cautious of taking him in the first round of a non-PPR league. The team doesn't want Westbrook getting 240 carries in a season. If they did, he would have done it before last year, and they wouldn't have burned a third-rounder on Tony Hunt. I rank him just behind Bush in a PPR league, based on Bush's upside and ability to not end up in the infirmary. And, yes, I know Bush has only played one season. That's still one more healthy season than Westbrook.
14. Willis McGahee, Baltimore
Yeah, yeah, he's in Baltimore now, the place where Jamal Lewis was a productive fantasy RB last year. That is the only reason Worthless McGahee is this high on the list. As he proved the last two years while in Buffalo and on numerous fantasy teams owned by me, McGahee sucks. Remember when he scored 13 touchdowns in half a season in '04? Me neither.
15. Maurice Jones-Drew, Jacksonville
The bowling ball of the NFL set the fantasy world aflame last season by scoring 16 touchdowns from the bench. When the Jaguars unexpectedly resigned Fred Taylor this offseason, they ensured that is where Jones-Drew would stay. So, a potential top 5 pick gets knocked all the way down to 16, and he's not without questions. Greg Jones returns to the mix this season and he could take a few goal-line carries away from MJD. Second, unless Fragile Fred lives up to his nickname, even if Jones wasn't around, it would be very difficult for Jones-Drew to match his outburst from a year ago. Well, at least MJD has his rookie of the year award to fall back on. Oh, wait…they gave that to a different running back.
16. Cedric Benson, Chicago
Benson is now unquestionably the man in Chicago and I expect him to be more productive than his ex, Thomas Jones. Benson matched Jones in touchdowns last year, as they both had six. While I don't know if Benson can pick up the other six (If I did, I'd have ranked him higher), it wouldn't be much of a reach to say Benson could venture into the painted grass double-digit times.
17. Edgerrin James, Arizona
Ken Whisenhunt wants to run 500 times. He also wants to give Marcell Shipp the ball at the goal-line. I'm not sure why, as James was perfectly capable of going forward one-to-four yards in Indianapolis. History, and common sense, points to James eventually getting the bulk of the work at the stripe. Remember, even though James suffered through his worst season in 2006, he still had almost 1,200 yards and caught 38 passes, which is more than you can say for a lot of starting running backs.
18. Thomas Jones, New York Jets
Will he improve on his numbers from Chicago? In regards to rushing yards, I doubt it. He goes from one of the league's better offensive lines to…well, you've seen it. But, if he can stay healthy, Jones should improve on his 6 touchdowns of a year ago. Unless Danny Ware ends up being a capable goal-line back, Jones will be the guy inside the 5.
19. Deuce McAllister, New Orleans
One of these years, Reggie Bush is going negatively impact Deuce. I expect it will be this season. Bush is the back to own in New Orleans, as he should see more carries than a year ago. A little tidbit from someone who watched all the Saints games: early last season, the Saints would give it to Bush on the goal-line on 1st and 2nd down every time and he would get stuffed every single time. Then, on third down, Deuce would plunge in for the score. Late in the season, Reggie quit getting stuffed.
20. Adrian Peterson, Minnesota
How long can Chester Taylor keep this beast off the field? My prediction: not very long. Peterson is a very special player and you don't keep your special players on the bench because you already have an "okay" veteran at the same position.
I was going to list every single starting RB/valuable backup and rank them, but I just can't. It's just too much of a clusterF between them for me to possibly do that. Instead, I will just give some brief thoughts about some of them.
*Two of my favorite "sleeper" backs are actually a pair of fantasy first rounders from a year ago: Cadillac Williams and Lamont Jordan. The Cadillac never left the garage last season as he slumped to 3.5 yards a carry and scored just one touchdown. There are two things here: 1.)He had NO quarterback at any point during the season. Chris Simms was horrible before Julius Peppers did the Bucs a favor and ended his season. Bruce Gradkowski wasn't much better. And, 2.)He CAN'T be any worse. It just isn't possible. As for Lamonthe has looked great in the preseason and people seem to forget that he averaged 3.8 yards per carry the last two seasons while running behind the worst offensive line in football. Meanwhile, the drunk who's supposed to take his job in week 5, Dominic Rhodes, average 3.4 yards per carry while running behind one of the NFL's BEST offensive lines. I don't expect Jordan will dominate this season, but he will be a very serviceable RB3.
*I actually like Fred Taylor. I think he is one of the most under-rated players of the last decade, and I've always really enjoyed watching him play. In fact, the first four years I played fantasy football, I made it a point to get Taylor every single year. However, he just isn't more than a platoon RB3 anymore. Although he stayed healthy last season, you just can't trust his health. If you went into the season with Taylor as your third RB, and say, Vernand Morency as your #4, would you really feel comfortable? Drafting Taylor dictates taking a near equal player in the very next round, and it's just not worth it. He's not going to score anyway, unless he breaks one.
*Ahman Green is old, hasn't been anything special in four years, and will not be getting goal-line carries. He's Fred Taylor, minus the "exciting to watch" part.
*Marion Barber III is massively over-valued. Bill Parcells gave him goal-line carries, not Wade Phillips. Remember this when you draft him 3 rounds before Julius Jones.
*Jamal Lewis is broken down and he plays for the Browns. If he's there in the 10th round, whatever, but I'd rather have Santonio Holmes.
*If I made this list two months ago, Clinton Portis would have been in the top ten. I was wrong. Portis is the early leader for the inaugural "NFL Vag of the Year" Award. I really don't know what to make of the Redskins RB situation. I guess I would rather have LaDell Betts. He is a much better receiver and is much more likely to be taking handoffs during the fantasy playoffs, while Portis is busy having exploratory vaginal surgery.
*Is there a Titans running back worth owning? That's kind of a Texans situation from last year. Lord knows I wasted a pick on Wali Lundy in multiple leagues. I don't see a Ron Dayne in shining armor swooping in on this one. I would just avoid the entire headache.
*I like Kevin Jones as a late-round flier. Even if he doesn't come back until Thanksgiving, he still might get more points than Bell or Duckett.
*Warrick Dunn is to be avoided. I'm not in love with Jerious Norwood either. He was a great fit in their zone blocking scheme, but they scrapped that when Petrino came in. I'd rather have Norwood, obviously, but only if he fell to me and was irresistible to pass up.
Well, that's it for running backs. I will not be doing a preview of receivers or tight ends, because, quite frankly, I don't care about them. Running backs and quarterbacks are what make a fantasy football team go. Plus, I would have had to start on that article way earlier than this! I'll be back next week when we kick off the season in style with the debut of my currently untitled fantasy column. Until next time, take care of yourselves…and each other.
Videos
NY Jets Phase 3 OTAs, Expectations and a Minor Calf Tweak with Greg Renoff