Identify Yourself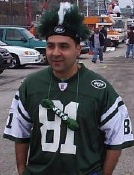 By Tyson Rauch
Another game and another loss for the New York Jets. Heading into this week's match-up with the Miami Dolphins, Gang Green is faced with a must win situation if there is any thought of making the playoffs.  Yes a must win situation in week three.  It is a conference game as well as a division game which has importance when it comes down to tiebreakers. 
The biggest problem with this team is that it lacks an identity.  The Jets are not a physical team, they are not a finesse team, nor are they a dominant defensive team or a powerful offensive team.  They are a team that is truly trying to find itself and come up with ways to win a game.  It is surprising that the Jets are in this situation especially coming off a playoff appearance last year, but there is currently no true strength on this team.  The Jets offensive and defensive lines are continuously losing the battles in the trenches, which sets the whole team back in terms of establishing any type of game plan. 
So where do the Jets go from here? It has been said many times in the past that sometimes you have to get worse before you can get better, is that the case for this year?
 
My personal opinion is that you play for each year and not for next year.  You do whatever it takes each week to win even if that means looking outside the box and taking some risks.  Coach Mangini and his staff showed some creativity last year and this trend should continue this year.  How about going 4 or 5 wide with a no huddle offense?  How about giving Brad Smith some chances to shake things up? Why not send Kerry Rhodes and Jonathan Vilma on blitzes from a variety of angles? How about incorporating more blitz packages for the corners? The NFL is about winning and if you need to scrap you playbook and philosophies to do so, so be it.  There are no guarantees in the NFL and I am not willing to continue to watch conservative game plans that are playing to not lose instead of win.
 
Parting Shots
1) How is that fans are criticizing Thomas Jones when he has next to nowhere to run?  The running back is only as good as the line in front of him and it is no secret the Jets O Line is clearly struggling.
2) Is it me or have the Jets completely changed Kerry Rhodes role in the defense?
3) It is humorous to hear Herman Edwards rave about Cotchery, when he got next to no playing time under his regime.
4) At what point do the Jets start to worry about D'Brickashaw Ferguson and his progress?
Videos
Aaron Rodgers Injury Fallout & Jets/Bills Recap