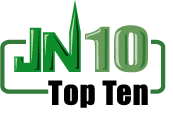 By Nick Ferraro
1. New England Patriots 
The Bolts hardly had a chance Sunday night.
2. Indianapolis Colts
The champs are 2-0 despite the struggle in Tennessee.
 
3. Chicago Bears
The Bears are dominant as long as they stay away from the elite AFC teams.  This week's game against Dallas should be interesting.
4. Denver Broncos
The Broncos are first in total offense, second in total defense, and almost 0-2.  They need to finish in the red zone.
5. Pittsburgh Steelers
The Steelers have not been tested through the first two weeks.
6. San Diego Chargers
We didn't expect a win in New England, but the Chargers should have put up more of a fight.
7. Dallas Cowboys
We will know exactly where the Cowboys stand in the NFC after their trip to Chicago.
8. Houston Texans
The Texans get to show how much they have improved on Sunday at home against the Colts.  Winning in Carolina means the Texans have half as many road wins in 2007 as they did in 2006.
9. Green Bay Packers
Signs of the apocalypse – there's a defense in Green Bay that needs an offense.
10. San Francisco 49ers
With Pittsburgh looming, the 49ers won't be in the top 10 for long.