JetNation.com Top 10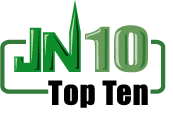 1.  New England Patriots  
The Pats seem unstoppable.  The competition hasn't been top shelf of yet, but they certainly appear capable of handling all comers. 
2.  Indianapolis Colts
Manning is looking like the MVP again.  You can score a few points on them, but can you score enough?
 
3.  Pittsburgh Steelers
I took a lot of heat for having the Steelers in the pre-season top ten.  I don't hear too much about that anymore.  If Ward's injury is serious, it would be a big loss.
4.  Dallas Cowboys
The Cowboys decisively established themselves as the NFC's top dog on Sunday night.
5.  Green Bay Packers
The Pack has re-created their defense nicely.  They need more consistency from the running game to challenge Chicago for the division. 
6. Tennessee Titans
The Titans are for real.  Their only loss was to Indy by a deuce.   They are 2-0 on the road after slamming the Saints in a must-win for New Orleans.
7. San Diego Chargers
The schedule maker was not kind to the Bolts starting off the year.  This is still one of the top teams in the league, and the Chiefs are likely to find out just how good they are on Sunday.
8. Jacksonville Jaguars
The Jags are as physical as any team in the league.  They imposed their will on Denver for four quarters.  Garrard has changed the dynamics for their offense.
9. Baltimore Ravens
The defense holds them in the rankings.  They need to find answers on offense.  I thought Brian Billick was an offensive genius.
10. Denver Broncos
After getting bounced by the Jags, the near-misses the first two weeks have me leaning toward lucky rather than good for the Broncos.
Videos
New York Jets OTA Presser Takeaways, Aaron Rodgers' Impact and Summer Delusion