The Jets Dropped The Ball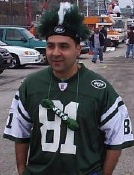 By Tyson Rauch
It was a great day for football.  A sunny Sunday afternoon with the parking lot full of festive fans.  The Jets were facing their division rival Miami Dolphins in a must win game for both teams.  It was the perfect day to have a halftime ceremony for fan favorite Wayne Chrebet. 
Wayne was an undrafted free agent out of Hofstra, who went on to have a very successful career with Gang Green.  Wayne molded his legacy on toughness, hard work, determination and his pure refusal to give up in any situation.  In addition he was a local kid who never forgot his roots and always gave back to the community. This was sure to be a ceremony to remember as well as one big love fest between the fans and Mr. Chrebet.
For the first time in as long as I can remember the stadium was 90% full for a half time event.  The chants began and the excitement built.  The beginning of the ceremony actually started the end of the second quarter with video tributes from some former teammates as well as some current ones.  The official ceremony began with Wayne walking down with his son to a thunderous applause. 
From there it was all down hill from the Jets perspective.   Wayne's presenters included Woody (who was booed) and Mike Tannenbaum who spoke so fast you could not tell if it was from nerves or trying to break speed talking record. Why not have some old teammates speak for him?  I am sure many of them would have gone out of their way to be there for Wayne. 
Next up was the presentation of the gifts.  Other than a very nice watch the Jets gave Wayne a picture of a flyover because that is what he loved so much.  ARE YOU KIDDING ME???  Why not spend the money and actually HAVE ONE!  Also in the past many have received a nice vehicle and had a chance to drive around the stadium once last time to say farewell to the fans that have supported the players over the years.  The Jets?  Hurry up and walk back Wayne, the second half is starting.   This was a complete joke. 
If the Jets were not capable of organizing a nice ceremony during halftime why not do it before the game?   Woody you and your organization truly dropped the ball on a ceremony for a local kid that gave his heart and soul to your organization; the least you could have done is return the favor.  And to top it off no commemorative posters were handed out afterwards for the fans to frame to remember the player.  Let me guess they will be in the Jets Shop for all of us to buy??
Parting Shots:
1. Were those "c'mon Hackett� catcalls being yelled out during the game or was I just having flashbacks?
2. Nice to see Kerry Rhodes make an appearance to then only hide back in the prevent defense with the rest of his defensive mates.
3. I thought the new J-E-T-S chant marketing idea worked great last week, great job JOISEYJET!!!!
Videos
New York Jets OTA Presser Takeaways, Aaron Rodgers' Impact and Summer Delusion