Put Up or Shut Up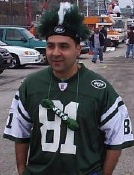 By Tyson Rauch
Coming off of an embarrassing loss, it is very easy to dwell on the negatives as the New York Media and Jets fans love to do.  Sure you can sit around and bash the inept offense, the swish cheese defense and the Herm like coaching.  I for one am willing to give Coach Mangini and his team one more chance to prove to me that this season isn't over, and this is a team to believe in. 
This week Gang Green faces their cross- town rival in a game that many expect them to lose.  A loss in this game will drop the Jets to 1-4 and diminish all hopes of making a playoff run and could have some mumbling "Same Old Jets.�  So Coach Mangini it is time for your team to show us all what it is made of. 
Does your team have what it takes to circle the wagons and come out fighting against a quality opponent? Does your team have the heart and passion needed to fight together as one and beat a formidable opponent in a raucous atmosphere?  Does your team have the ability to play with a sense of urgency with the season on the line?  Coach you love to use boxing analogies when preaching to your players, well I have one for your team : Put Up or Shut Up.
Note to "Diehard� Jets fans:
Anyone can walk around proud wearing their green and white when the team is winning.  How about trying to do it when the team is facing some adversity?  Anyone can go to games when the Jets are expected to win, why not attend and support the team when they have the cards stacked against them?  For you Jets fans that have the ability to go to Sunday's game versus the Giants but refuse to go in fear the Jets will lose, that is pretty sad. 
For the season ticket holders that will stop attending games, leaving your seat empty, or will sell your tickets to opposing team fans because you have given up on your team, you are just as sad.  I am as frustrated as the next guy but cannot wait until Sunday morning to throw on my Kerry Rhodes jersey, head up to the Meadowlands and support my favorite team the New York Jets.
Videos
NY Jets Phase 3 OTAs, Expectations and a Minor Calf Tweak with Greg Renoff