Which Way is Up?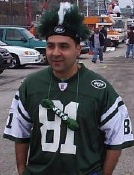 By Tyson Rauch
For the first time in a long time I am at a loss for words when it comes to commenting on the New York Jets.  As Jets fans we have been through the high and lows from the 10-0 lead in the AFC Championship game against the Broncos that ended in a second half collapse to the dramatic late season surge generated by Chad Pennington culminating in an AFC East title. Then of course there was the Vinny Testaverde injury in the season opener and of course the two missed field goals in playoff game that forbid the Jets from moving on.
The direction of the organization appeared to change in 2006 when Coach Mangini and company took over Gang Green and surprised the NFL by claiming a spot in the playoffs.  Coming off that season the outlook was bright for the beloved Jets as the team was smart, disciplined and well coached. Well fast- forward to week five of  the 2007 NFL season and the Jets are 1-4 and look nothing like the successful team from the year before.  The team appears to lack any of the qualities of a championship team from the talent in the locker room, to the coaching strategies, to the actual performance on the field.  The aura of negativity, sarcasm and losing once again appears to be surrounding the Jets as it did in 2005. 
So where do they go from here?
And from a long time fan perspective the joy of discussing the team I have supported for years seems to have waned.  How many times can you read negative posts over and over about a quarterback that plays his heart out for his team but always comes up short?  How many times can you read articles criticizing personnel and management decisions? Especially when the same people praised those moves five months ago?  How many times can you read message board threads with fans blaming the Jets downward spiral on everything from the players, the ball boys and even the hot dog vendors?  Right here on JetNation.com we even had a thread suggesting Fireman Ed should shoulder some of the blame.
I think back to the beginning of August when I could not wait to watch my New York Jets in their first preseason game.  Football was back and I could not be happier.  Now two months later the Jets are a team that has lost its direction and the fans are not making it any easier on them.  And to make things worse I will go to the game this Sunday against the Philadelphia Eagles and will have to sit next thousands of Philly fans making a mockery of a Jets HOME game.  A New York sports radio host has a saying when he mentions the New York Jets which is "Oh the Pain� and he could not be any more on target.
Videos
New York Jets OTA Presser Takeaways, Aaron Rodgers' Impact and Summer Delusion