The Blame Game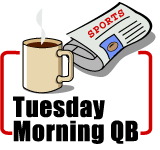 By Tyson Rauch
The New York Jets are 1-5 after losing to the Philadelphia Eagles in a game full of questionable play-calling, conservative quarterback play and mediocre defensive strategy.  The finger pointing is at an all time high amongst the Gang Green faithful and New York media, placing this organization once again in turmoil. 
So the million-dollar question is, what is causing the fall of the Jets?  Is it the weak armed quarterback who captured the hearts of the coaches and fans but can only throw the ball downfield with the Meadowlands wind at his back? NO.  Is it the high priced defensive players who are either playing out of position or just not playing at all? NO.  Is it the highly valued field goal kicker who is now missing a kick every week that could change momentum in the game? NO. 
The winners of the blame game are Mike Tannenbaum and Eric Mangini.   Congratulations!  Coming off of a playoff appearance many throughout the NFL viewed the Jets as a team on rise and with a little tweaking one that could do some damage in the AFC.  Well boys, you failed both the Jets and their fan base.  The offensive and defensive lines both needed to be improved in order to control the line of scrimmage.  What were the actions taken to address that? Trade a competent veteran offensive lineman who was important to the development of your younger linemen, because you lost control of your pissing contest with him over money.  You signed various journey- men defensive linemen to serve as fill-ins and "depth�.  Both "plans� have blown up in your face.  Last year the management team was considered "genius: for the ingenuity and creativity in terms of game management and play calling.  This year?  The play calling is conservative and predictable and has gotten to the point where defensive players are barking out the plays being called. Sound familiar? 
This team has regressed back to the days of the 4 and 2 2005 Jets team that was decimated by injuries and was being lead by a coach with one foot out of the door.  The performance on the sidelines and playing field is approaching laughable in many areas.  The blame needs to be pointed to the same area where the accolades were accepted last year;  The Jets front office and coaching staff.
Parting Shots:
· How many season ticket holders are looking forward to being surrounded by Redskin and Steelers fans in the upcoming game? Got to love those "die-hard� Jets fans.
· Can you imagine the Jets vs. Chiefs game and it is Kansas City that actually has something to play for?  Stop smiling Herm.
· You know somewhere Bill Belichick is sitting in his office smiling, not because of his Super Bowl bound team, but because Spy Gate has come and gone but Mangini's Jets are continuing to fall.
Videos
NY Jets Phase 3 OTAs, Expectations and a Minor Calf Tweak with Greg Renoff