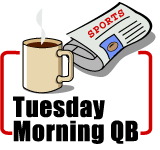 By Tyson Rauch
NFL coaches have come up with many clever phrases throughout the years.  Take Herman Edwards for example, "You play to win the game�. Well Coach Mangini came up with a comment in his press conference that is the perfect description for the 2007 New York Jets; "Not Good Enough�.
From the front office staff, to the coaching staff, to the veteran players to the rookies, the overall performance has been not good enough.  Their inability to sure up the offensive and defensive lines, to the lack of creative and aggressive play calling, to the penalties, poor tackling, shanked kicks, fumbling and costly interceptions – all not good enough. If there is something that can contribute to losing an NFL game, the Jets are finding a way to do it. The season almost brings flashbacks to the 1995 season where that Jet team had the same traits and went 1-15.
So where do the Jets go from here? Do they stick together, rally around each other and continue to fight? Or do they start packing their bags and counting the days until the off-season? Will all of the "character� guys that are in this locker room continue to speak the company line or will the locker room bickering and hierarchy questioning begin? Will the physical and demanding nature of this staff begin to wear down the players to the point where they will break?
The next 11 weeks will be a true test of character for both the coaching staff and players. I guess we will see if Coach Mangini is "good enough� to handle the situation.
Parting Shots:
• I truly cannot believe the Jets are playing meaningless games in October. It is going to be a blast sitting in a half empty stadium surrounded by the opposing team's fans. How long before the obligatory "There is only one team in NY� and "The Jets fan base is pathetic� articles start getting written?
• Why is it that some teams in the NFL can turn around their defense in one year while the Jets will need to take 2-4 years to do so?
• Is it me or does it seem like 75% of the teams in the NFL play at a different speed than the Jets? Could it be that 40 yard dash times could be more important than SAT scores?
• Why do I have this feeling that the Jets vs. Chiefs game in December will be a win and you are in situation for Kansas City?  I know somewhere in the back of his office Coach Edwards has that famous smirk on his face. You cannot make this stuff up.