JetNation.com Top 10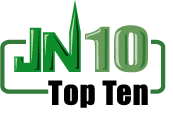 By Nick Ferraro
1.  New England Patriots
The only question so far has been how many points they'll score and if they're running it up. The Skins are just the latest to be shamed by the Brady Boys. The undefeated and defending champion Colts are a seven-point underdog in their own building Sunday. This team is scary good.
2.  Indianapolis Colts
The Colts get to use lack of respect as motivation this Sunday. They are the champs; they are undefeated, and they are expected to lose by a touchdown.
3.  Dallas Cowboys
The Cowboys will face an Eagle team on the road Sunday night whose quarterback seems to have found his stride. Watch your step, Dallas.
4.  New York Giants
The 13-10 win in London did nothing to distinguish the NFL in Europe. The Giants are just fine with the 'W'.
5.  Pittsburgh Steelers
The Steelers hardly notice the Bengals anymore. Big Ben is playing back to the form he had when the Steelers won it all.
6.  San Diego Chargers
The Chargers are rounding into form after the rocky start. The rest of the AFC West has been nice enough to keep their seat warm at the top of the division.
7.  Green Bay Packers
Favre is great and a first-ballot hall-of-famer, but the love affair for four straight hours on Monday night I could have done without.
8.  Detroit Lions
Were the Lions preseason predictions right? Probably not, but this team has been solid.
9.  Tennessee Titans
The Titans are a difficult spot on the schedule for anyone. The make you play an ugly game.
10.  New Orleans Saints
It's a big jump, and yes they still have a losing record, but they seem to have it on the right track. That makes them as good as anyone in the NFC.
Bottom Five
28. San Francisco 49ers
The Niners will not graduate from the bottom five until they figure out what happened to their ground game.
29. Atlanta Falcons
The Rams have four more points on the year. The Falcons have more indictments.
30. New York Jets
The first step to beating the problem is admitting you have one. Welcome to the NFL, Mr. Clemens.
31. Miami Dolphins
What a great choice it was sending the Dolphins to represent American football in Europe.
32. St. Louis Rams
I thought they had a shot this week to break the streak. The next points they put on the board will finally have them in triple digits on the season. The Pats have scored 331 points.
Videos
Aaron Rodgers Injury Fallout & Jets/Bills Recap