Typical Jets Fan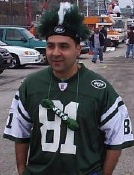 By Tyson Rauch
Well another week and another disheartening Jets loss. It gets more difficult each week to attend the games and twice as painful leaving after another mediocre performance. It would not be so bad if as a fan I had not experienced this before.  Unfortunately we have all been through this several times over the years. It is to the point where as a fan you are rendered speechless when it comes to discussing your favorite NFL team.
So where do Jets fans go from here? Well if my email dictates anything it will not be to the Meadowlands. In a matter of three hours I received numerous emails from Gang Green fans selling individual game tickets as well as seats for the rest of the season. Looks like once again Jets fans, who want to be considered a hard-core diehard fan base are quitting on their team when the times get tough. Once again Jets home games will display patches of empty red seats and groups of opposing team fans making a mockery of the Jets fan base.
Sure there will be excuses abound, busy schedules, family commitments so on and so forth, but would these still come up if this team was 5-3 playing in a pivotal match up? The Jets announced that Kellen Clemens will be taking over at quarterback, is that not enough to invigorate the fan base to show up on Sunday and support their "favorite" team? Or is Gang Green only worthy of fan support when they are winning? This fan reaction boggles my mind as you only have 8 times a year to watch your favorite team play. Why not attend and support your team through thick and thin? Why not attend Kellen Clemen's first home start? Why not take your child to their first Jets game and make them a fan? Why not change the label of "typical Jets fan"?
Parting Shots
It seems that defensive coordinator Bob Sutton has come under fire lately for the performance of the defense. Is this not Coach Mangini's defense that he is implementing?
What kind of contract would you offer Kerry Rhodes now? Should it be based on last year's performance or this years?
Is Bryan Thomas a "one hit wonder" or is he being used differently in the defense?
If Max doesn't take the picture of me wearing the JMac jersey off the front page, I am going to throw a beating his way.
Videos
New York Jets OTA Presser Takeaways, Aaron Rodgers' Impact and Summer Delusion