Jets Lose To Redskins In Overtime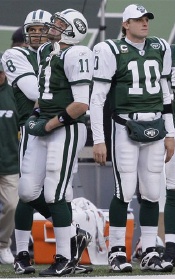 The Jets lost to the Washington Redskins in overtime by a score of 23 – 20.  We are not going to continue the theme of media negativity that we have seen this season towards the Jets.  We are not going to talk about a defensive line that needs to be overhauled.  We won't mention an offensive line that still can't run block.  Nor will we discuss a coaching staff that continues to get out coached in the second half each week.
Instead we would like to talk about Kellen Clemens.  And only Kellen Clemens.  He showed a glimpse today, a glimpse that Jets fans hope is a sign of good things to come.  He faced heavy pressure and made good decisions.  He walked away with his head held high.  Kellen gave the Jets a chance to win.
Young Kellen didn't have his numer one wide receiver Laveranues Coles.  Kellen's numbers weren't great.  He threw 42 times and completed 23 passes for 226 yards and 1 touchdown.  The bigger number was 0 interceptions.  He was blitzed and rarely held the ball too long.  He threw it away when needed.  Kellen ran 7 times and picked up 48 yards.  He showed toughness and encouraged his receivers after a dropped pass.  It is going to take his receivers a little while to get used to his velocity.  The ball was definitely getting downfield, further and quicker than they are used to.
Today is not a day for negativity.  The Jets record now stands at 1 win with 8 losses.  Today is a day to talk about Kellen Clemens.  What he showed today was certainly encouraging.  In a season that was over before it was started, it would be nice if the Jets emerged with a true franchise QB.
Videos
Aaron Rodgers Injury Fallout & Jets/Bills Recap