JetNation.com Top 10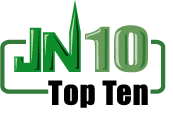 By Nick Ferraro
1. New England Patriots
We know they're mortal. What we don't know is if anyone can beat them. The undefeated season talk will be louder and louder. The frustrating thing about it is that it's all legit.
2. Indianapolis Colts
The Colts will get another chance, but it's probably going to be in New England, and it's probably going to have the same ending.
3. Dallas Cowboys
The Cowboys were definitely not looking past Philadelphia. It was either that, or the Eagles just stink. The Giant game is the NFC's version of Pats vs. Colts.
4. New York Giants
The G-men have won six straight. Four of the six were against teams in the bottom five of the league. Dear Giants – show me something Sunday.
5. Pittsburgh Steelers
People are pointing to the Steelers as one, if not the only team, capable of derailing the Patriots. They have a shot, but the running game has to deliver.
6. Green Bay Packers
It was messy, but KC is a difficult road game. The lack of running attack keeps the Pack from being mentioned with the elite teams in the league.
7. Detroit Lions
The Lions apparently have a defense to go with that offense.
8. Tennessee Titans
The Titans are now 6-2 and just a game out of first. Jeff Fisher is outstanding.
9. New Orleans Saints
The Saints have it in high gear on offense. They've fought all the way back from the 0-4 start, and nobody in the NFC is happy about it.
10. San Diego Chargers
Sunday was an embarrassment. They get to host Indy Sunday. I think the game tape from Minnesota might be reviewed a few times by Manning and Addai.
Bottom Five
28. Denver Broncos
The Donkeys were outscored by the Lions defense and now have the second worst point differential in the league to the Rams. They can blame injuries for some of their woes, but this team has had problems from the start and could easily be winless on the year.
29. San Francisco 49ers
Beaten in a squeaker by the former bottom-fiver Falcons. Maybe Alex Smith is not the man for the job, Coach Nolan.
30. New York Jets
The Kellen Clemens era began, and there is hope in Jetland. The Jets still can't win, and now they get Pittsburgh and Dallas in successive weeks.
31. Miami Dolphins
I think the Dolphins have a shot for a win this week against the Bills. The focus in Miami is more on what the Patriots are doing and if the '72 Dolphins should worry.
32. St. Louis Rams
The Rams had a bye week, but still managed to lose a player (Leonard Little) for the season. That's one way to tell you are having a tough year.
Videos
New York Jets OTA Presser Takeaways, Aaron Rodgers' Impact and Summer Delusion