JetNation Top 10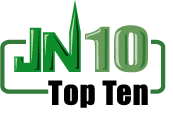 By Nick Ferraro
1.  New England Patriots
The tight one against Philly may do a lot to help them roll through the rest of the schedule.  It's getting harder to imagine them losing one with Pittsburgh and the Giants left as the only winning teams on the schedule.
2.  Dallas Cowboys
The Packers will give the Cowboys all they can handle.  The winner likely gets the rematch at their place should they meet again in the playoffs.
3.  Green Bay Packers
The defense has what it takes to slow Romo and company.  Favre will need to revive his younger self and spark some semblance of a running game to win on Thursday.
4.  Indianapolis Colts
The extra days off after Thanksgiving will help the banged up Colts.  They have Jacksonville breathing down their necks and next on their schedule.  A win at home will lock up another division title.
5.  Pittsburgh Steelers
I'm giving them a pass because of the weather Monday night.  With that said, the loss to the Jets and the escape against Miami has to have the Steelers doubting themselves.  The upstart Browns are just a game back if there are any slip ups.
6.  Jacksonville Jaguars
The Jags have another opportunity to pull themselves up to the Colts on Sunday.  With Garrard healthy and many of the Colts not, they have no excuses
7.  Cleveland Browns
The Brown's schedule gives them every chance to run the table to finish at 12-4.  That will put them in position to win the AFC North with Pittsburgh facing a much more difficult road.
8.  Tampa Bay Buccaneers
Winning ugly is being given a new meaning in Tampa.  Gruden's work this year should have him in the running for coach of the year honors.
9.  Seattle Seahawks
Three wins in a row coupled with the Cardinals collapse at home against San Francisco has the 'Hawks in the driver's seat out West.  Their stay in the postseason will be brief unless the running game finds its form of a few years ago.
10. San Diego Chargers
This week's version of the Bolts looked good.  We'll see what next week version looks like.
Bottom Five
28. San Francisco 49ers
It was a long time coming, but Frank Gore finally had a big day to spark the Niners to win number three.
29. New York Jets
Will Gang Green avoid becoming the Dolphins first victims?
30. Atlanta Falcons
The dirty birds make a trip to St. Louis this week.  Prime seats are still available.
31. St. Louis Rams
Another injury to Bolger has to have the Rams thinking of quarterbacks in the draft.
32. Miami Dolphins
The home game this week against the Jets may be the Dolphins best chance to avoid a winless season.
Videos
NY Jets Phase 3 OTAs, Expectations and a Minor Calf Tweak with Greg Renoff