Caution: Work in Progress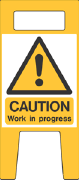 By Tyson Rauch
Another week and another frustrating loss for the New York Jets. From the early injury to quarterback Kellen Clemens, to the questionable play calling, to the weekly dropped passes by Justin McCareins; the opponent changes but the results do not.
Coming into this season there was a perception that the New York Jets were prepared to take on the New England Patriots and make a run at the AFC East title. Well this notion couldn't be further from the truth as the Jets are at least two years away from being considered a legitimate contender.
Success in the NFL starts at the line of scrimmage and currently the Jets are getting blown off of the ball on both sides. The offensive line struggles to create holes for the running game and open passing lanes for the quarterback. So it does not matter if the Jets have Thomas Jones in the backfield or Darren McFadden.  Without blocking they are no better than Blair Thomas.  In addition it does not matter if the Jets have Kellen Clemens at the helm or Donovan McNabb without protection they might as well be Browning Nagle.
On defense the Jets front seven frequently struggles to generate any type of pass rush or limit an opponents running game. Defense wins championships and right now the Jets do not have much of one.
So where do the Jets go from here? The upcoming offseason for Gang Green will be the true test for the Jets front office. There is a notion that the Jets will have substantial cap space and this has to be used to upgrade the talent base on this team. No more fringe players, no more band aids and no more boy scouts. The Jets need GAMEBREAKERS.
The Jets, based on their poor performance this year will have high draft picks. Again, they need to draft GAMEBREAKERS. Once these players are acquired then the Jets will finally be heading in the right direction. Of course it is going to take time to assimilate these players into the system, endure the growing pains with the younger players but this is what it is going to take to make the next step. So before anyone goes predicting the Jets to head to the Super Bowl in 2008, beware the Jets are a work in progress.
Holiday Message to Woody Johnson: Mr. Johnson since you have taken over the New York Jets you have been successful at doing one thing..making money. From raising ticket prices, to being frugal signing players and front office staff, to embarrassing halftime ceremonies and acts, your fingerprints are all over this franchise. Now to top things off there are talks of your staff pushing the issue of charging personal seat license fees to Jets season ticket holders in the new stadium. Yes the new stadium that once again we are sharing with the New York Giants, who reportedly are against such fees.
When does it end Woody? How about during this holiday season you think about giving back to your fan base who has done nothing but support your franchise that has not won a championship in almost 40 years. Upon buying this franchise you mentioned how as a child you were a fan of the New York Jets and how you loved going to games. Keep up your current pace Woody and there will no longer be children at your games, only your corporate buddies.
 
Here is to wishing all of you a happy and healthy holiday season!
Tyson
Videos
Aaron Rodgers Injury Fallout & Jets/Bills Recap