Jetnation Top 10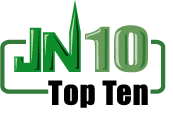 By Nick Ferraro
1.  New England Patriots
Just the Dolphins and Giants stand in the way of history now. Well…there's the Giants standing in the way of history.
2.  Indianapolis Colts
The Colts are winning despite some major injury woes. It's giving their wounded time to heal while not sacrificing their playoff seed.
3.  Dallas Cowboys
What happened to the offense in Dallas? It seemed like the only way to beat them was to outscore them. The Eagles may have given the NFC a recipe for a playoff upset.
4.   Green Bay Packers
The Packers push for home field got a serious boost Sunday. They still give up too much on the ground to feel good about.
5.  Jacksonville Jaguars
The Jags are officially the AFC team you do not want to play in the playoffs.
6.  San Diego Chargers
The Lion's defense is just the ticket for a team looking to give its offense more confidence. I think the Chargers just ripped off another 25-yard run.
7.  Cleveland Browns
The Snow Bowl was good fun on Sunday. The Browns are tied for the division lead and way out in front on the list of surprises for 2007.
8.  Pittsburgh Steelers
This ship is sinking fast. Now there's finger pointing in the locker room. This is not the way you want to head into January.
9.  Minnesota Vikings
The Vikings certainly have a full head of steam, and that may be all you need in the NFC. I'm going to need to see better play from their QB before I start drinking the purple kool aid.
10. Tampa Bay Buccaneers
The Bucs have maxed out their performance-to-talent-level ratio. It's been an admirable effort, but I don't see this lasting past one game in the playoffs.
Bottom Five
28. Baltimore Ravens
I can't begin to imagine the mood in the Raven's locker room right now. This team was 4-2 to start the year.
29. Oakland Raiders
How many top-five picks will it take to get this franchise on track?
30. New York Jets
It was another frustration-filled day for our heroes in Gillette. You would think that a team that can play that close to the Pats, weather or no weather, should have picked up a few more wins somehow.
31. Atlanta Falcons
The Falcons made a tribute to Vick on Sunday. Too bad they couldn't play better for him.
32. Miami Dolphins
Let's hear it for the Dolphins! One win isn't enough to move up the food chain, but win on Sunday to avert another team's entry into history, and I might just push the fish into the top ten.
Videos
Aaron Rodgers Injury Fallout & Jets/Bills Recap