Pennington And Coles To The Chiefs?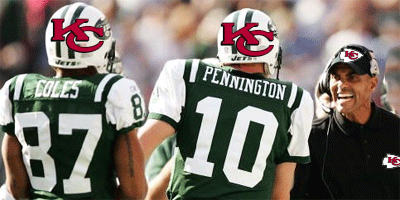 Originally Posted 12/16/07 – 12:38am JetNation.com has learned that the Jets have had conversations with the Kansas City Chiefs about a blockbuster trade. The Jets would send both Chad Pennington and Laveranues Coles to Kansas City in exchange for the Chiefs 1st round pick. The Jets would also receive a 4th rounder and a possible 2nd day pick in the 2009 draft. The 2009 pick would be tied in some way to performance. We are told that a deal is essentially in place and it will be announced in the off-season.
The Jets would like to avoid a situation next year where both Chad and Coles are unhappy in camp. The staff likes what they see from Kellen Clemens this year and they are ready to proceed in that direction. The Chiefs are under the 2008 cap and since Chad and Laveranues both have manageable cap numbers, this deal is workable. Herman Edwards is under tremendous pressure in Kansas City to improve an offense that has been very unproductive under his watch.
As with any trade there is always a chance it won't happen. Both parties are committed to making this deal. No trade can be made right now, since the trading deadline has passed. The source that provided JetNation.com with this information has been very accurate in the past. This is the same source that broke the Andre Wadsworth signing before camp this year.
You can discuss this story and get an update on the salary cap impact here.
Videos
Aaron Rodgers Injury Fallout & Jets/Bills Recap