Enough is Enough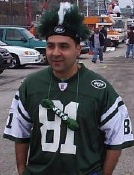 By Tyson Rauch
This past weekend I had the opportunity to attend Brett Favre's first practice as a New York Jet at Hofstra University. The atmosphere was one that I have not seen in almost ten years. Excitement was running rampant throughout the complex. The bleachers were packed, the lines behind the fences were jammed. Fans showed up in full support of their beloved team.
There was talk of winning games, contending for the division and making a run at the playoffs. Clearly the flurry of Jets offseason moves, culminating with the acquisition of Brett Favre, has put some life into the fan base that tends to be lacking from time to time. Or so I thought…
While watching practice a group of fans commented they could not believe how the fans were reacting to the "new look Jets." Clearly Favre is past his prime and just using the Jets for his final paychecks just like other veterans have done in the past. Clearly Woody Johnson is just making these moves so he can gouge the fans for more money (PSLs). It has been proven in the past that you cannot buy championships and the Jets in the end will be the "Same Old Jets." In typical east coast fan style they expressed these thoughts loud enough where everyone could here including the players. Are you kidding me?
Does this ever end with some Jets fans? The New York Jets have brought in a first ballot, hall of fame quarterback coming off a very impressive year, to lead their team. In addition to that, the front office did their best to bring in high character, high productivity guys to address other perceived holes on their team. For the first time in years the Jets displayed a well-developed plan on how to improve their team and were very aggressive going about it.
Isn't that enough to excite Jets fans?
Is there no hope going into the season, where anything could be possible? Jets fans always seem to dwell on the past and never feel positive about the future.
I understand the first argument that is always brought up. The Jets have not won a title in almost 40 years, which I completely get. But does the negativity ever end? Is the sky always falling? Does there have to be doom and gloom before Week 1 even starts?
I cannot wait for this season to start. I want to see how this season plays out. Sure there could be some growing pains early as the team incorporates their new pieces of the puzzle. As the season moves along I think the Jets can really do some damage. Anything is possible in the NFL so why not the Jets making a run?
Enough is enough with this "Same Old Jets" negativity.
Videos
Aaron Rodgers Injury Fallout & Jets/Bills Recap