Jets Hold On, Start Season 1 And 0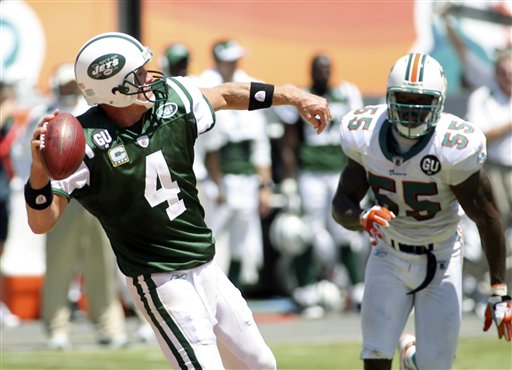 It was well documented that Brett Favre only knows 75% of the Jets playbook.  Note to Mangini and Schott, sometimes less is more.  The Jets offense looked sharp in the first game of the 2008 season, beating the Miami Dolphins 20 to 14 in Miami.  The Jets hung on for the win, despite losing their place kicker Mike Nugent for part of the game with a thigh injury.
Favre hooked up with Jerricho Cotchery on the 2nd series for a 56 yard touchdown strike.  Overall the offense was effective (Favre was 15 of 22 for 194 yards and 2 touchdowns).  The play of the game came when the Jets had to pass up a field goal attempt and Favre put up a jump ball in the end zone on 4th and 13.  2nd year receiver Chansi Stuckey pulled it in for the Jets 2nd touchdown of the year.
Chad Pennington had an excellent game for the Dolphins.  He hung tough in the pocket despite a strong pass rush (4 sacks, 3 hurries).  Bryan Thomas had 2 sacks, Calvin Pace and Shaun Ellis each had a sack as well.  Pennington brought the Dolphins back with a touchdown in the 4th quarter.  He was driving again before being picked off in the end-zone by Darrelle Revis.  Rookie CB Nick Lowery had a strong first game with several passes defended.
Plenty for the Jets to work on but after a 4 and 12 season, a win is a win.  The Jets will take on the Patriots next week in the Meadowlands.  Stay tuned for the JetNation Report Card and join us in our forums to talk NY Jets football.
Videos
Aaron Rodgers Injury Fallout & Jets/Bills Recap