Is Woody Johnson really too cheap to pay for a winner?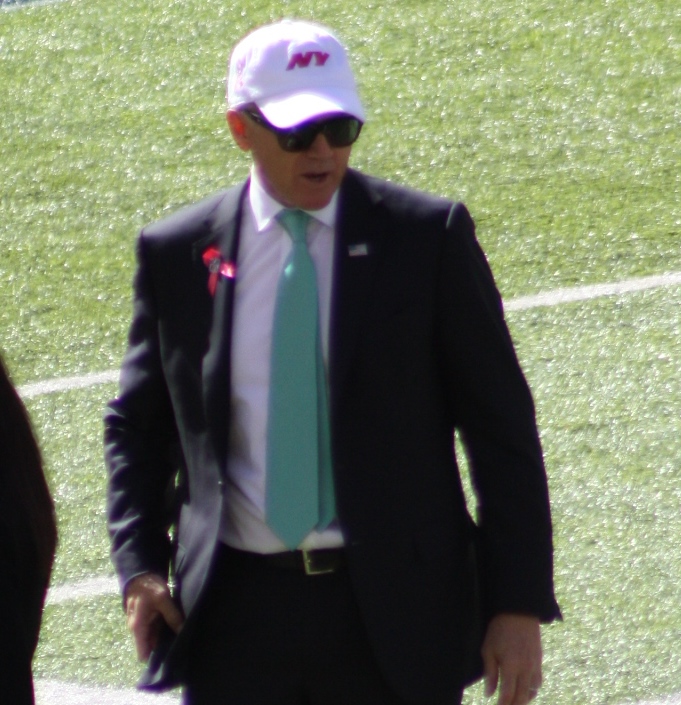 By Sperm Edwards
---
There's plenty to criticize. PSL's are just offensive. Frankly, anyone who pays more than a nominal amount like upwards of $1000 is a friggin' fool.
Many of the high-profile contracts didn't pan out, or were outright idiotic.
But I can't think of any players whose presence here was sacrificed in the name of the almighty dollar. If anything, the Jets have overpayed to make sure they player they wanted came here or stayed here. It was also no secret that he badly wanted Parcells to remain with the team, and probably would have paid any price to keep him. Parcells had his own personal issues at the time.
There are underlying reasons for the Jets' failures. But the owner's lack of willingness to spend money on the team doesn't seem to be one of them. I would classify this owner as one who wants to win. If for no other reason…to ensure revenue for his precious PSL's.
2008 off-season for Woody/Tannenbaum:
– They go out and get the best LG available, Alan Faneca, a perennial pro-bowler and future HOF'er. They pay him $8M/yr (highest per-season contract ever given to an OG in NFL history).
– They get the best RT available via free agency, former pro-bowler Damien Woody. They pay him $5M/yr, which is likely top-5 money for RT's.
– They get the best FB available, 3x (including 2007) pro bowler Tony Richardson.
– They get the best DT in football (when healthy) in 3x pro bowler Kris Jenkins to play NT. They pay him $6M/yr (highest-paid in NFL history for a NT).
– They get the best (or at least most-coveted) free agent 3-4 OLB available, Calvin Pace. He's about to sign with division rival Miami to go with Parcells, and then Woody gives him the "I want you" interview of his life, including a private helicopter ride over the new training facility & stadium. They pay him $7M/yr, the biggest contract ever given to a LB in NFL history.
– They guarantee the $11M for the two years remaining on Laveranues Coles' contract just to shut him up for one season.
– They get the player commonly thought to be the best 3-4 OLB prospect in the draft (bust that he is so far) in Vernon Gholston, and pay him $5-10M/yr depending on incentives reached, instead of trading down for a far cheaper player.
– They lock up (then) emerging star and fan-favorite Kerry Rhodes to a long-term deal. They pay him $6.5M/yr (top-3 money at his position).
– They get Brett Favre – and pay him $12M for the season without spending training camp with the Jets (or anyone else) and further absorb the $6M in dead cap space for Pennington who they gave $23M in bonus money to on his current deal ($29M if you count the amount he made back by starting 10 football games in '06).
– They finished building the most expensive, premiere training facility in the NFL so no expense is spared for his players while training, practicing, and meeting.
Fast-forward to the end of the 2008 season: Favre didn't work out & Mangini clearly needed to be replaced. No time is wasted before dismissing Mangini so it isn't a drawn-out drama of "is he staying"/"will he be fired" and so they can get permission to interview every HC candidate available, most of whom are still coaching teams in the playoffs.
But because Bill Cowher doesn't want to coach here – or anywhere – in 2009, and the concensus from so many here (based on nothing; not even a rumor) is he surely would have come here for the absolutely insane amount of $10-12M/yr (50-75% more than Bill Belichick gets), so therefore….
Woody Johnson is a cheap bastard who is not interested in making the Jets a better team.
And before this season:
Don't forget that this same owner – disgusting as his or any owner's PSL demands are – also agreed to cough up enough money in contracts to:
– make Curtis Martin, at age 29, the highest-paid RB in NFL history (at the time) because the fans loved him
– make Chad Pennington the 2nd-highest paid QB in NFL history (at the time), second only to Peyton Manning.
– grossly overpay Wayne Chrebet like a #1 WR because the fans loved him
– make Kevin Mawae the highest-paid center in NFL history (at the time)
– pay Jason Fabini like a franchise LT so as not to disrupt the team's intact OL
– pay Dewayne Robertson well over $20M that could have been over $50M if he reached all incentives
– pay Shaun Ellis a (then) gargantuan $15M guaranteed to stay here, making him like the #2 highest-paid DE in the NFL (at the time) after Javon Kearse.
– pay Laveranues Coles $25M (including a $5M SB two years after he received a $9M SB) to come back because Chad Pennington likes him best
– pay Bryan Thomas $25M just because he finally showed some promise & his HC wanted him locked up
– pay Jerricho Cotchery $20M to keep him locked up in a Jets uniform
– pay Kenyon Coleman $20M because his HC and/or GM (probably through Parcells) wanted him for the Jets' 3-man line
– pay a $750K bonus to Kimo von Oelhoffen even though everyone knew he was getting cut in a few short months.
– pay Justin McCareins a $31M contract just because his HC wanted him.
– pay David Barrett a $30M+ contract just because his HC wanted him & his GM wanted the Antoine Winfield egg off his face.
– pay Andre Dyson millions per year on the off-chance his career could be resurrected here.
– pay stupid-millions to Ty Law to rent him for one year for the 2005 season.
– pay Thomas Jones $5M/yr after even though he was about to turn 29.
– pay D'Brickashaw Ferguson $6.5M per year with $18M guaranteed.
– keep the Jets butted-up against the cap, never leaving the gobs of unspent cap space so many other owners insist on.
But sure. We suck primarily because the owner is so cheap that he won't pay for top talent.
Because he had the audacity to take a chance on a HC who was thought to be a promising young talent in Mangini, who learned under the Jets' arch-rival who snubbed them all those years ago. He didn't work out, so therefore Woody is cheap for not coughing up $5M/yr for some fictional great HC who was not even available in 2006.
Because people on a message board have imagined some fairy-tale amount of money that would get Bill Cowher to go back on his word to his family & give up the cushy lifestyle he enjoys today.
There have been a lot of bad judgment calls in terms of personnel. But a lack of willingness to pay to bring in (or retain existing) talent is just absurd. I can't believe that I'm even writing this; I don't even like him as an owner. But the fantastic "he's too cheap" rationalizations for why Bill Cowher isn't here right now are just preposterous.
Videos
Aaron Rodgers Injury Fallout & Jets/Bills Recap