JetNation.com Partners With TailgateJoe.com
FOR IMMEDIATE RELEASE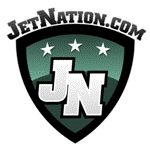 Contact:  Max
Email: forums@JetNation.com
Web: http://JetNation.com
Twitter: @JetNation
JetNation Partners With Tailgate Joe to Bring Jets Fans The Ultimate Tailgating Experience
East Rutherford, NJ – Sept 16, 2009. Before you pack the grill into the trunk and stop to go food shopping on the way to a Jets game this Sunday, ask yourself is it worth it? The packing, the shopping, buying more food than just a few people need. Are you taking the train? Do you take a shuttle bus to the stadium from a remote lot because you don't have a parking pass?
Don't worry, Tailgate Joe is here to help.
TailgateJoe.com is the official tailgate party for JetNation.com at all home NY Jets football games.
Joe has a passion for tailgating and he formed Tailgate Joe to bring football fans together. When JetNation was looking for a tailgating partner, one requirement was the tailgate host had to have a passion for pork. Joe reluctanctly agreed to make a large volume of pork products available for the "JetNation Lifestyle".
In addition to a gameday tailgate for every home game, http://TailgateJoe.com also offers:
Recipes
Tailgating product reviews
Videos
Food tips
JetNation has been expanded to include a tailgating forum.  Give TailgateJoe.com a visit and check the menu for an upcoming tailgate. We look forward to seeing you at a game this season. Thanks and Go Jets.
For Information
Web: http://TailgateJoe.com
Twitter: @tailgatejoe
Email: joe@tailgatejoe.com
AIM: tailgatejoe
For more information or to see the fan reaction to this truly momumental partnership please review the discussion thread.
Videos
Aaron Rodgers Injury Fallout & Jets/Bills Recap