Wake Up The Ghosts: Yankee Preview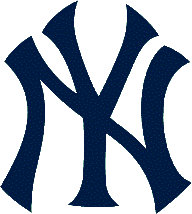 By Tiffany Berryman
Yankee fans have long suspected that October's air turns cold because of all those great ghosts swirling around, blessing each magical moment with their Mystique and Aura but the last few seasons have been void of such luxuries. There was that distracting Joe Torre drama and the never ending follies of Alex Rodriguez to consider. There were pitching problems and bullpen blunders. Surely, the goal has always been the same, to win the World Series but in this inaugural season of the New Stadium – the Yankees are undeniably heading into the playoffs with a renewed sense of purpose and a playful spirit absent these last few years.
For the Bombers, the 2009 season has been colored with dramatic comebacks on the field and punctuated with a youthful chemistry reminiscent of days past. The impressive play of free-agent pickups Mark Teixeira and CC Sabathia combined with the unmatched reliability of Derek Jeter and Mariano Rivera has fueled each victory with an almost uncanny distinction but everyone knows the playoffs are a completely different animal….Here are five things that must happen for the Yankees to make the Canyon of Heroes its Autumn Home for a mind boggling 27th time…
1. Pitching, Pitching, Pitching – It's no secret that pitching wins championships so certainly none of the hurlers will get a pass during the intensity of the ever present playoff glare. But despite the amazing efforts of the staff this season, questions still remain. Will Joba Chamberlain be left off the playoff roster due to his lackluster contributions? Sabathia and old faithful Andy Pettitte are primed to continue with their success but can AJ Burnett assert himself this fall and thrive under the pressure? If he does, all that's left is for Phil Hughes and Mo to maintain their stellar status and shine up those late innings with their brilliance.
2. Can Cano? – In the past, critics have called Robinson Cano everything from lazy to distracted at times but manager Joe Girardi recently told the media that he believes the second baseman should nab a Gold Glove for his work this season. Yankee fans know the frustration that is Robbie Cano all too well and since he is sporting a sickly .205 batting average with runners in scoring position, nothing about the young Dominican is certain. Conversely, this season he joined Derek Jeter to become one half of the first shortstop-second base combo in Major League history to each have 200 hits. Cano has been benched for lack of hustle and veterans have had to pull him aside a time or two but if he can stay focused and deliver in the clutch, all will be forgiven.
3. A-Rod's Hotcorner – Celebrity girlfriends seem to be the in 'thing' on this season's Yankee roster. Jeter and Nick Swisher have actresses of their own but no one seems to attract gossip fueled attention like Alex Rodriguez.  After sitting out the first five weeks of the season due to hip surgery, A-Rod managed to successfully navigate mid-season fatigue, surging late in the year. Could he be peaking at the right time? If he can maintain his form and cement his place in Yankee Lore, baseball fans will embrace him in ways even Hollywood can't.
4. Know Your Role– There can be no doubt that the most successful teams have irreplaceable stars but in the playoffs, the significance of the role player reaches maximum height. If Nick Swisher, Brett Gardner, and Melky Cabrera play their parts and remember all their lines – opponents will surely have their hand's full. The beauty of the role player is they don't have to steal the show (although it's nice when that happens, Ala Shane Spencer) – they just need to show up and fill in the gaps to make a difference.
5. Not So Secret Weapon – Mark Teixiera has seamlessly transitioned from free-agent circus  to Yankee faithful with an almost effortless grace that it's hard to imagine him ever playing for any other team but this will be his first experience with NY style playoff pressure. Thankfully, his amazing play at first this season leaves little doubt that he'll be there when it matters most.
Nothing is guaranteed but if the regular season is any indication, Yankee fans are in for a fun ride this fall. Somebody wake up the ghosts!
Join in on the discussion in our forums.
Tiffany Berryman is a former YES Network Television Personality.  Her blog can be found here.
Videos
New York Jets OTA Presser Takeaways, Aaron Rodgers' Impact and Summer Delusion