In Rex the Jets Trust
By Tyson Rauch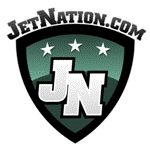 What a difference a year makes. Last season the New York Jets were a team searching for an identity led by a quarterback with his mind in Minnesota, and a head coach that was a wannabe football mastermind. The 2008 Jets were a talented group, but lacked the leadership, fire, and focus to take their game to the next level. Enter Rex Ryan and his staff in 2009 and the change could not have been any more dramatic. Gone are the days of the players walking around like robots, spewing out pre-rehearsed quotes for the media. Gone are the days of the players walking around on eggshells in fear of their dictator-like coach. Gone are the days of the Jets accepting failure.
The Rex Ryan led Jets are a team that plays with a ton of pride, passion and most importantly confidence. Whether it is the aggressive nature of the defense or the smash mouth style offense, this Jets team is all about playing hard and physical. When was the last time you could say that about a New York Jets team? This team believes in itself and their coach, and the results are reflected on the field. Heading into the AFC Championship game Gang Green has won 7 of their last 8 games.
So while Ryan may rub some the wrong way with his bravado, the man deserves a ton of credit for the resurrection of the Jets fighting spirit. Ryan walked into New York, said he was going to win with defense and his rookie quarterback, and did just that. Now Rex has his team sixty minutes away from the Super Bowl. In Rex the Jets trust, do you?
Parting Shots

1) Can we stop with the Mark Sanchez/Joe Namath comparisons already? Different times, different players.

2) For those of you heading out to Indianapolis for the game, be very careful when purchasing tickets. Reportedly there are thousands of counterfeit tickets being sold.

3) Anyone else find it amusing that the Jets are still not getting any credit? The list of excuses continues to grow. Can we add some more so the Jets can get to the Super Bowl?

4) I love how the Jets ticket office has stepped up their marketing campaign for their PSL sales. What two playoff wins has made me want to spend $10,000 to see the Jets play next year? Did these playoff wins somehow put money in my pocket? The PSL decision is not about team success, it is about not wanting to spend an inordinate of money for a football game.
Join the conversation in the Jets Nation message board.
Videos
NY Jets Phase 3 OTAs, Expectations and a Minor Calf Tweak with Greg Renoff