JetNation.com Listed in the APP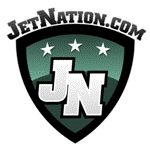 JetNation.com, specifically Phil Sullivan and Tyson Rauch, made the front page of the Asbury Park Press today.  In a featured article regarding Personal Seat Licenses and the impact the Jets playoff run is having on them.  You can click here to read the full article.
Here are some highlights:
Bad feelings still linger, said Brick resident Tyson Rauch, 37, who has been a season ticket holder since 1995.

Rauch said he has refused to fork over a total of $8,000 for licenses on two seats in the new stadium comparable to the seats he has now.
"Looks like I won't have tickets next season. It's just gouging by them," Rauch said.
Phil Sullivan:
Middletown resident Phil Sullivan, 40, said he also had been ready to relinquish season tickets, which have been in his family for over 20 years.But Sullivan — who operates JetNation.com, a Jets fan site which he launched in 2005 and is on pace to record 14 million hits and 4 million page views this month — concedes his favorite team's success is having an influence.

"Like many Jets fans, I am currently rethinking that decision," Sullivan said of his initial hesitation. "There are a few reasons. The Jets' winning is the biggest one. More than that is that they seem to be building a team that we can be proud of, and Jets fans have waited a long time for that."

"Rex Ryan consistently goes out of his way to mention and thank the fans. He seems genuine and has a connection to the fans that no other Jets coach has had," Sullivan said. "The reality is that the Jets have priced out many fans. But now that they have cut many ticket prices in half, those that were on the fence are thinking about hopping over."

Tell us what you think in our New York Jets message board.
Videos
Aaron Rodgers Injury Fallout & Jets/Bills Recap