The Morning After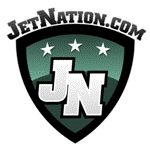 Today is the first day of the New York Jets off season.  The magical ride is over and it was really a magical ride.  They raised the bar this season to a level many of us have never seen.  The goal here is to win the Super Bowl.  If you asked me when they were 7 and 7 if that was to goal, my answer would have been no.  If you asked me that same question when I was sitting in Indianapolis, my answer would have been yes.
Here are some quick notes and Jets links as I travel back to NJ and recover:
Mark Sanchez looked calm yesterday, he matured so much this season I don't think anyone isn't excited to see what he can do next year.  His footwork remains an incredible asset.  At times it seems like he can move as fast sideways and backwards as he can moving forward.  JetNation is very proud of Mark and happy to have him leading this team for years to come.  In an era when hear so much about athletes and their off the field exploits, we tip our cap to Mark Sanchez who is 100% focused on football.
Although the majority of Indianapolis Colts fans were very nice, there were a few that were very disappointing  in my eyes.  Colts fans were confident but at halftime when they were losing some of them turned ugly.  Again this is the small minority but when you are sitting there with your son as you get stuff thrown at you and people are verbally attacking a 14 year old, well that isn't the definition of Indy Hospitality in my eyes.  It happens everywhere and Jets fans are not exactly saints, still was disappointing that drunk fans would resort to name calling a kid that was sitting there quietly.
Lucas Oil Stadium is nice and it is a great place to watch a football game.  Many of the hotels are next door and the inside of the stadium is amazing.  Although we didn't walk around much (see above post).
Meeting Dave Herman from the Super Bowl III New York Jets turned out to be one of my highlights of the trip.  He was very nice, took time to answer our questions and said he never misses a game.  He still attends home games in person and he roots for this team with all his heart.  He was nice enough to take some pictures with us and that link also includes some pre-game tailgating photos.
From the "jinx department" comes Rod Boone of Newsday.  He made this tweet during the game: @rodboone If u haven't booked your trip to Miami better get with it. Jets are up 14-6..
We will have plenty of updates this week, check back daily.  Remember to visit our forums to read thoughts and opinions from the true experts, the NY Jets fans.  You can join in on the conversation by registering for a free account.  Here are some Jets Links with additional updates:
Videos
New York Jets OTA Presser Takeaways, Aaron Rodgers' Impact and Summer Delusion