JetNation Turns Five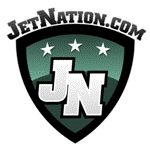 Yes, you read that headline correctly, today is the 5th anniversary for JetNation.com (we like to call it a birthday). I want to thank everyone for making the site such a success. There are so many people that volunteer time each week to keep the site running. We would be lost without their efforts. Everyday, the most knowledgeable New York Jets fans talk football in our forums. That is what makes JetNation so great, the passion and knowledge of the posters.
Today the site stands at over 5,000 registered members. There are thousands more that read the site each week or follow what is going on via facebook or twitter. I realize the posters and readers make this site what it is, not the other way around. So thank you Jet Nation.
Think about what has changed for the Jets over the past five seasons. Herman Edwards was still the coach in 2005. Then came boy wonder, Eric Mangini who led the Jets to the playoffs in his first season. He led the Jets to an epic collapse with Brett Favre as his QB in season three (his last). Now the franchise stands strong with Rex Ryan at the helm. The Jets made it to the AFC Championship game and they look forward to next season with a young and talented roster.
I can't believe I just wrote that either. The NY Jets have a young and talented roster. The future has never been brighter Jet Nation.
I would like to give special thanks to the following people for their efforts on the site:
First my Mom and Dad. Not sure why but everyone always thanks their parents. Although five years ago, they didn't even know anything about the internet.  It wasn't until they started putting the results from Monmouth Park online that they felt the internet had value.  But hey, thanks anyway.
To follow the site rules of no political or religious talk, I will not be thanking Jesus or Al Gore in this speech.
Sean Deegan continues to be our guiding light and inspiration. He went out of his way to show me the proverbial webmaster ropes back in 2005. We remain thankful for everything he did for us. Thanks Sean.
The moderators are here every day (almost) and they do the real work. Who knew that dealing with drunk Jets fans after a loss would be tough?
The writers that provide us fresh content each week, especially; Tyson Rauch (Editorials and Game Previews), Joe Grinwis (NY Jets Report Card), Nick Ferraro (NFL Top 10), Doug Cantor (Draft Talk) and Gregg Hayim (Podcasts).
Is that the Academy Award music I hear in the background? Thank you Tailgate Joe for all the good food this year and to our pal Jimmy for the Jets News each morning.
I can't leave out EY (Post of the Week), Nick Ferraro (this time for Virtual Gambling), PDM for all his work on the New York Jets Wiki and Greenbeans for, well for everything actually. Also I am glad that TomShane rejoined us this past year, good to have him back around.
I feel like I am leaving someone out but that music is getting very loud. So if I left anyone else out, thank you! Feel free to join us at the after party and discuss this some more.
Videos
Aaron Rodgers Injury Fallout & Jets/Bills Recap