NY Jets Trade For Santonio Holmes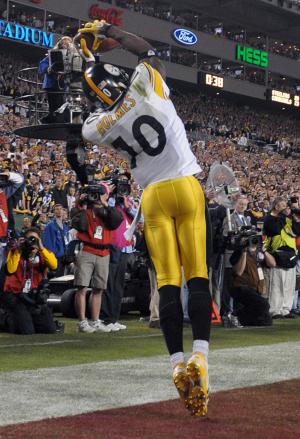 Mike Tannenbaum has done it again.  The Jets have been limited in free agency due to the final eight rules.  But Tanny has proven to be resourceful and this time he made a big splash by trading for Pittsburgh Steelers wide receiver Santiono Holmes.  Holmes was the Steelers 1st round draft pick in 2006 (25 overall) and was the MVP of the 2009 Super Bowl.  Last season the receiver who stands at 5'11" and weighs 192lbs put up some impressive numbers (79 receptions, 1,248 yards and 5 TDs).
What did this move cost the New York Jets?  A 5th round draft pick in the 2010 draft.
Yes, that is what we wrote.  Holmes who was a 1st round pick and is coming off a big season was traded for a 5th round pick.  Are there other considerations in this trade?  Some outlets are suggesting there might be, if that turns out to be true we will bring that news to you.
Some other notes, Holmes has been in the news lately and there is no doubt that is a big factor in this trade.  Here are some highlights:
NY Jets fans are leaving their thoughts and comments in the Jets Nation fan forum.
Videos
Aaron Rodgers Injury Fallout & Jets/Bills Recap