Post-game Recap: Bengals 17, Jets 6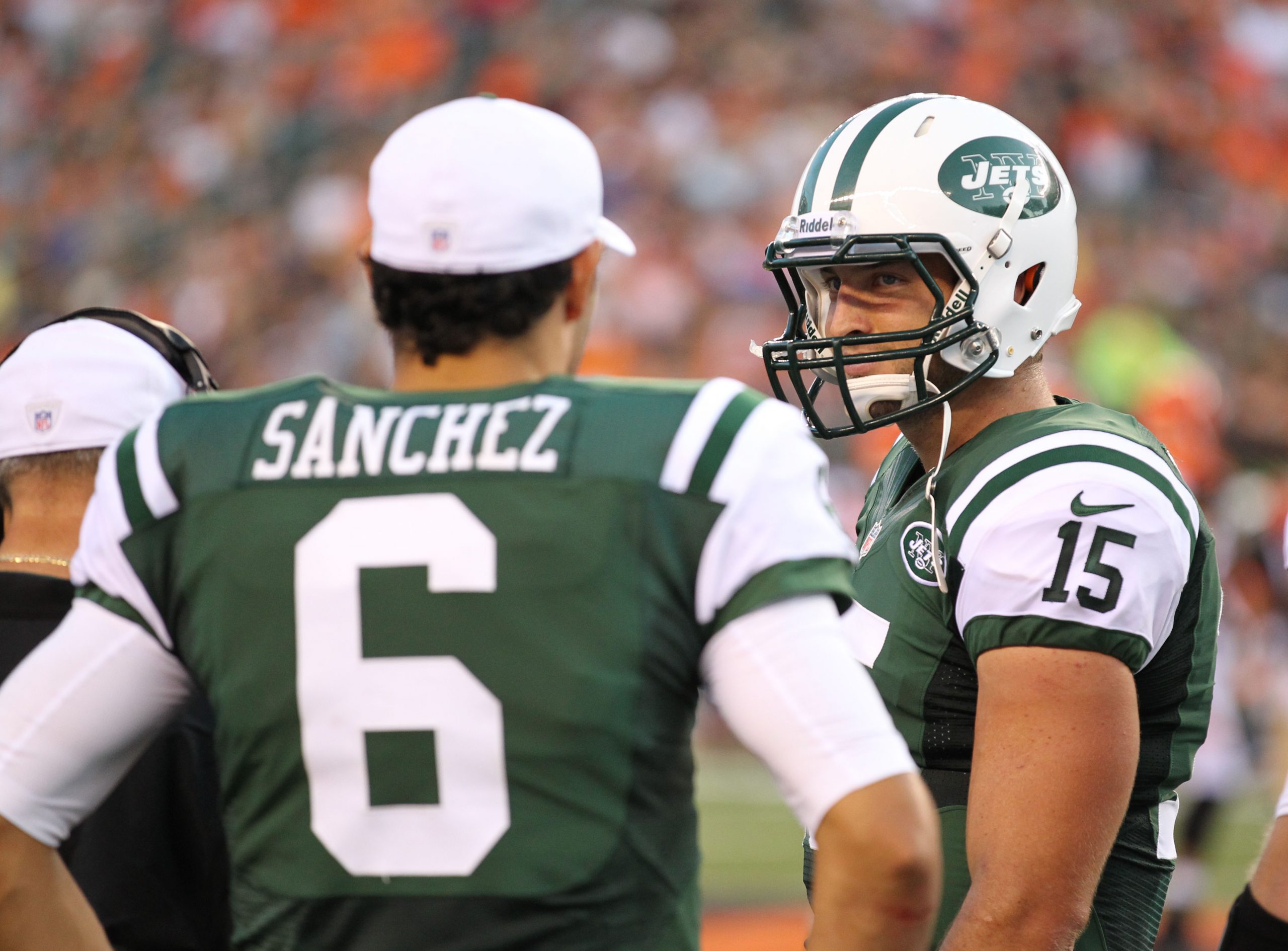 Anyone paying attention going into this first preseason game against the Cincinnati Bengals knew the main storyline was the quarterback "controversy."
Neither quarterback made a particularly strong case for themselves, numbers wise, in their limited playing time. Mark Sanchez started the game and played one quarter. He was 4-6 for 21 yards with no turnovers, and he was sacked twice. Sanchez, who said after he was pulled out of the game that he was "channeling his inner Tebow," rushed for four yards. Tim Tebow played for all of the second quarter and about half of the third. He went 4-8 for 27 yards with one interception. He avoided being sacked by scrambling for 34 yards.
Greg McElroy finished the game and had the best passing numbers. He was 4-6 for 49 yards and was crushed on three sacks allowed by the second and third string offensive line. No Jets quarterback threw a touchdown. The new Tony Sparano offense failed to impress this time through – the ground-and-pound lacked any kind of real spark – but it's still early.
There were some quarterback positives, in spite of the fact the offense scored almost no points. Sanchez looked much better than the last time we saw him, and he stepped up in the pocket. Tebow looked great while he was running. McElroy even showed some zip on his passes. But it looks like the controversy of "Tim Tebow vs. Mark Sanchez" will continue for at least another week.
In this first look at the team, the starting defense looked good, and the defensive line is deep. There are a lot of solid players there. LaRon Landry and Yeremiah Bell started at safety and looked fairly good.
But the game's stand out was first round draft pick Quinton Coples, who played most of the game in spite of other players rotating in and out. He had a few missteps early on, but recorded five tackles. He knocked down a third down pass and drew a holding penalty. His most impressive play was in the fourth quarter, when he blew by a defender, sacked the quarterback, and forced a fumble. The whole play, from snap to fumble, took about three seconds.
It doesn't look like anyone who was afraid of Vernon Gholston 2.0 has to worry. Coples did more in this preseason game than Gholston did in all his time in New York.
Other highlights:
+ Running back Joe McKnight showed some impressive explosiveness running the ball that's going to be a necessary component of the offense if the Jets want to be a ground-and-pound team.
+ Running back Bilal Powell looked at least as good as Shonn Greene carrying the ball. He's been having an impressive training camp.
+ Jordan White, another rookie, looked very good returning the ball on kicks and punts. He played in the slot for Jeremy Kerley, who has a hamstring injury.
+ Rookie wide receiver Stephen Hill had two catches for 17 yards. He dropped another third down pass that would have been a first down, but he looked all right in his debut. He played a lot of the game, especially in the first half.
Negatives:
+ The defense struggled on third down, and like last year, throws to running backs and tight ends over the middle posed a problem.
+ It's time for Mike Tannenbaum to get on the phone and start looking for a blocking tight end. They're not going to be as successful as they could be if they have one, and currently, they don't.
+ The offensive line was a disaster throughout the game, allowing five sacks and a lot of pressure on all three Jet quarterbacks.
+ The receiving corps is a question mark. Holmes and Kerley were out. Schilens had no catches. Hill, White, and Royce Pollard are rookies. Patrick Turner has been good in what we've seen, but again, he doesn't have much experience.
+ The special teams folded like a cheap suit late in the first half, allowing a blocked punt, practically in the end zone, which resulted in a Bengals touchdown. Tebow and Eric Smith, who usually are used as punt protectors, were in the game. Tebow was playing QB at that point, and Smith left the game with a left knee injury earlier in the half. Special teams coach Mike Westhoff will have some harsh words for his players.
In spite of the fact that the Jets lost this game 17-6, and there's a lot of room for improvement, there's a lot of good to take away from this game. It's that time of year where we see a lot of improvement from week to week, and this game had the feel of a team fully shaking off the rust. It will be interesting to see how the Jets are better in their next game, when they host the Giants next Saturday at MetLife Stadium.
Videos
Aaron Rodgers Injury Fallout & Jets/Bills Recap