Jets vs Giants: MetLife Bowl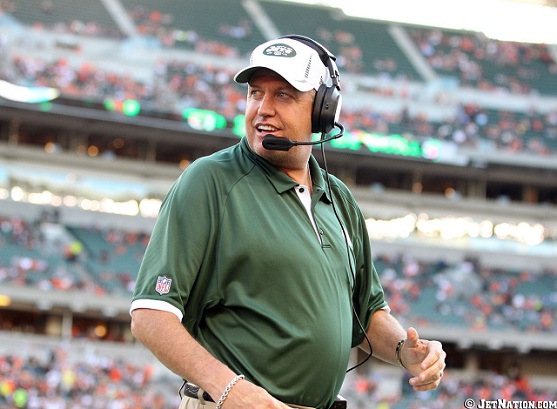 Giants @ Jets August 18, 2012
We all know what we saw in the Bengals game was extremely vanilla. Very simple blitz packages, very simple coverages and an extremely simplified offensive game plan. That happens with most NFL teams in the first preseason game of the season. However, now as fans, we need to see more out of the Jets, especially their first team.
Offense
Sanchez looked like he left off where he was last year…looking over his shoulder and then lying on his back. None of the blocking tight ends the Jets have been praising looked like they deserve starting time. Jeff Cumberland completely whiffed on a block and Sanchez got sacked. Bilal Powell, in on many third down plays, missed his block on three separate occasions and once led to a sack of Sanchez. He's got to improve if they plan on giving him significant minutes this year.
Pass protection overall this week has to improve. Austin Howard did a fine job replacing the injured Wayne Hunter, but not enough to warrant more starting time yet. Watch to see how the Jets offensive line is communicating about blitz pickup and changing their blocking scheme on the fly as they see changes from the Giants defense. With Jason Pierre-Paul and the small army of pass rushers the Giants have protection is going to be vital to Sanchez getting on track with timing with his receivers. We need to see more out of the receivers.
Game 2 should include more sophisticated route running and option routes. The key guys to watch are Stephen Hill and his ability to go deep and the third receiver underneath the coverage. With Jeremy Kerley struggling all off season and now injured, someone needs to step up. We didn't see enough from Jordan White (questionable with knee swelling) or Royce Pollard (1 catch, 13 yds) to anoint them a starting position this week, so it will be interesting to see what Sparano wants to do. Sanchez(4-6 for 21yds) should throw the ball anywhere from 10-15 times this weekend so we'll get a good look at these receivers and their route running abilities.
Another weapon in the passing game that I think we will see a lot more of especially on third downs is Joe McKnight. Think about it this way…if Bilal Powell is in on passing downs to protect Sanchez and he can't do that job then why bother keeping him in? Might as well send McKnight on short crossing routes against linebackers coverage and cause a mismatch. I think Sparano will utilize McKnight more this weekend. Finally, the Jets have to start to create an identity in the run game. Shonn Greene (5 carries, 11 yds) and Powell (5 carries, 16 yds) is horrific. The line needs to get a better push on smaller defensive linemen and open up bigger holes. When you're backup QB is your leading rusher (Tebow 4 carries, 34yds) it's embarrassing.
Look for the Jets to try and establish the run early and start to create that identity of the offensive philosophy. If they're able to get something going in the run game, the passing game will prosper as always. The key is to watch for communication among the linemen and how they are gelling as a unit. This should be better in this weeks game for the simple fact that they have a game together under their belt. It'll be a very important week for the offense to be successful, especially against our in-state rival.
Defense
Defensively, Jets fans became sick to their stomachs very quickly when the Bengals completed two 3rd and long plays, one of which the Jets had 6 defensive backs in, blitzed two of them and left Bart Scott in coverage versus BenJarvis Green-Ellis for a long game. Their achilles heal last year was stopping teams on third down.
This week look for the blitz schemes to get more complex, as well as disguising coverages in the secondary. Starters will play about two quarters so we'll have a good look at the defense for a considerable amount of time. The defensive line vs. the Bengals showed signs of improvement. Muhammed Wilkerson and Quinton Coples looked pretty good. Coples did a lot of damage versus the second string offensive line for the Bengals, but he only did what his coaches asked of him. At the end of the day, isn't that all we can ask for? Look for penetration from the defensive linemen this week. I think Jay Richardson (4 tackles) deserves a chance to show what he can offer on the outside.
If the Jets can get pressure from their front 4, they won't have to blitz as much as in past years. They can drop more guys into coverage and fill zones in the passing game. We also got to see shades of Demario Davis at linebacker in the first preseason game. Against the Giants, I think he will get more significant time with the starting group, especially on third down. Davis can use his speed and cover, but can also blitz hard if needed. We need to see more out of Calvin Pace and Bryan Thomas to feel comfortable with our outside linebacking core. Bryan Thomas has to prove that he's completely healthy and he didn't stand out vs Cincinnati (zero tackles).
The secondary looked pretty good overall. We know Revis and Cromartie will do their thing, but I really liked how Yeremiah Bell played at FS. Ellis Lankster and Isaiah Trufant played well recording 4 solo tackles and 5 solo tackles, respectively. Lankster may beat out Kyle Wilson as that third corner. It'll be interesting to see who is out there in the secondary on third and long on Saturday. Look for the defense to be a little more complex and a little more aggressive Saturday than the first game. Keep an eye on the outside linebackers, as well as, the nickel package as those will be the pivotal parts of the defense this year. As for the defensive line, the Jets may try more 4 man front to get more of a rush from the outside guys in Maybin, Coples, even Richardson.
Special Teams
The key special teams competition to continue to watch is Folk vs. Brown. Both kicked 40+ yard field goals against the Bengals. As the weeks go on, the pressure will mount. We will see who can handle it and win the job. With Kerley hurt, the Jets are using a "punt returner by committee." All the Jets need at that position is a guy who will take care of the football and make good decisions on the catch. Kyle Wilson catching a punt and running backwards won't get the job done this week. Also expect to continue to see Demario Davis and Nick Bellore flying down the field on kickoffs and punts and making the tackles. They are two of the most athletic guys on the team.
Bottom line is we have to see progress from all aspects of this team. First preseason game is just getting feet wet. Now they all have a game under their belts and a week to make adjustments. Let's see what kinds of adjustments are made. Expect Sanchez to throw the ball 10-15 times to receivers who will be fighting to make that last wide receiver spot left on the active roster at the end of the preseason. With Holmes, Kerley, and now Hill (finger) potentially out this weekend, it'll be interesting to see who steps up and fills that role. I think Patrick Turner could be a guy who benefits from these injuries. Defensively, coverages should be tighter, and blitzes should be more complex this week. The Giants will be a big test for all areas of this team. Don't expect a mass improvement, but let's watch for baby steps taken by this team and something to continue to look forward to for the following games.
*All game statistics are courtesy of Nfl.com
Videos
Aaron Rodgers Injury Fallout & Jets/Bills Recap