Jets Fall To Giants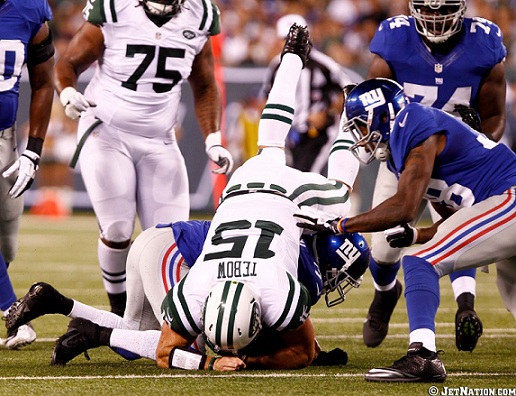 New York Giants 26 – New York Jets 3
The "MetLife Bowl" was ugly for the Jets. Forget that they lost to the Giants (and the Giants get to keep the really cute Snoopy statue for the next year). It's preseason, who cares who they lose to?
The bigger issue is that the Jets have a first rate defense – the first team defense only allowed six points in the first half and there was only one offensive touchdown scored by the Giants all game – and what looks to be a third rate offense.
Sure, this is preseason. Sure, the top of the receiving corps is out (Holmes, Kerley, and Schilens all sat this game). Sure, you don't want to completely throw your hands up and exclaim, "We're doomed!" in the preseason, but after watching games like this one, it's hard not to feel that way.
Visit our New York Jets photo gallery.
As bad as the offense was, there were some really good things happening on defense. LaRon Landry intercepted a poor throw by Eli Manning, and landed a huge hit on Victor Cruz. Landry doesn't think he'll be fined for the hit, telling the media after the game that it was all shoulder pads. Rookie Quinton Coples had some crushing tackles. Bart Scott got to Eli Manning, and looked fairly quick this game. Defensive linemen Bryan Thomas and Mike DeVito played well. Kenrick Ellis, in for Sione Pouha, also played pretty well. Rookie safety Antonio Allen made some good plays, both on defense and special teams. Darelle Revis and Antonio Cromartie held Cruz and other Giants receivers in check.
They still gave up too much yardage on third down, and there wasn't much of a pass rush. The second team defense gave up some big plays, but for the most part, there weren't too many defensive mistakes that would make everyone groan.
Otherwise, the game was bad for the Jets.  The special teams committed penalties that really hurt, including a roughing the kicker that cost the Jets possession and led to a Giants score. Josh Brown nearly missed the team's only field goal. TJ Conley kicked three terrible punts in a row.
And then, there was the offense. It was a disaster. Our quarterback lines for the day:
Mark Sanchez – 9 for 11 for 59 yards with one interception. He was sacked three times.
Tim Tebow – 5 for 14 for 69 yards. He was sacked four times.
Sanchez's interception was returned for a touchdown by Giants rookie cornerback Jayron Hosley, but overall Sanchez didn't look too bad, stepping up in the pocket and throwing some strong passes. Tebow, after his drive that led to a field goal, looked incompetent. He over and under threw receivers, including a wide open Stephen Hill in the end zone.
It's hard to gauge exactly where the passing game is without the top receivers in the lineup, but it's even harder when the offensive line is terrible. There's no way around this. The line couldn't get John Corner past the first down marker on 3rd and 3 or 3rd and 1. They were worse than last week, and (in case there was any lingering doubt) right tackle is a huge issue. Wayne Hunter allowed four sacks in two quarters, one only being negated by a penalty on the Giants. Sanchez was under pressure on almost every play, and Tebow wasn't much better off with the second team later in the game.
You can say Hunter is rusty (he didn't play last week due to injury) but he was owned by Giants defensive end Jason Pierre-Paul, and he wasn't exactly good last year. One year with a right tackle who had been a viable backup but wasn't starter material is one thing, but now we're heading into year two. There's no excuse for this.
Bright spots, if you can call them that, included Stephen Hill, who looked pretty good in the second half playing on the second string offense. Shonn Greene and Bilal Powell looked better carrying the ball this week, even in spite of the lack of o-line help, but it's alarming to realize that Greene is your number one running back when he rarely gains more than four or five yards per carry. When was the last time we saw him have any kind of big run?
We've heard all through camp how much the offense has improved, but we haven't seen any evidence of it. The Jets have not scored a touchdown in two preseason games, and aren't exactly getting into field goal range either, having scored only nine points overall. They've yet to get into any kind of real rhythm, and it's been eight quarters. Sure, they're still learning Tony Sparano's system, but they don't even look better than they did last week.
Fans should be furious with the front office and general manager Mike Tannenbaum.  He didn't upgrade at right tackle when everyone knew right tackle was an issue, and he hasn't really improved the offense in two years now. Hunter goes back out there every game, and it's admirable, but it speaks volumes about the lack of offensive depth that he hasn't been replaced by Vlad Ducasse at this point. There is no blocking tight end, which is needed on a ground and pound team. Rookies are question marks, as much as we want Hill to succeed. The Jets are relying on Schilens at receiver, and he's been nothing but injured.
It's too early to completely panic, but these two games have been discouraging. Last week it looked like shaking off the rust, but this week? The first team offense looked worse than last week, and (if possible) even worse than it did at the end of last season. The defense is going to keep the Jets in games, but it's not going to matter if the offense doesn't score any points…which it hasn't yet, by the way.
Next Sunday night, the Jets will host the Carolina Panthers at MetLife stadium. It'd be nice if the Jets scored a touchdown.
You can talk NY Jets football with other fans in our NY Jets message board.
Videos
Aaron Rodgers Injury Fallout & Jets/Bills Recap