Game Previews Home Slider NY Jets Training Camp
Jets vs. Carolina Panthers Preview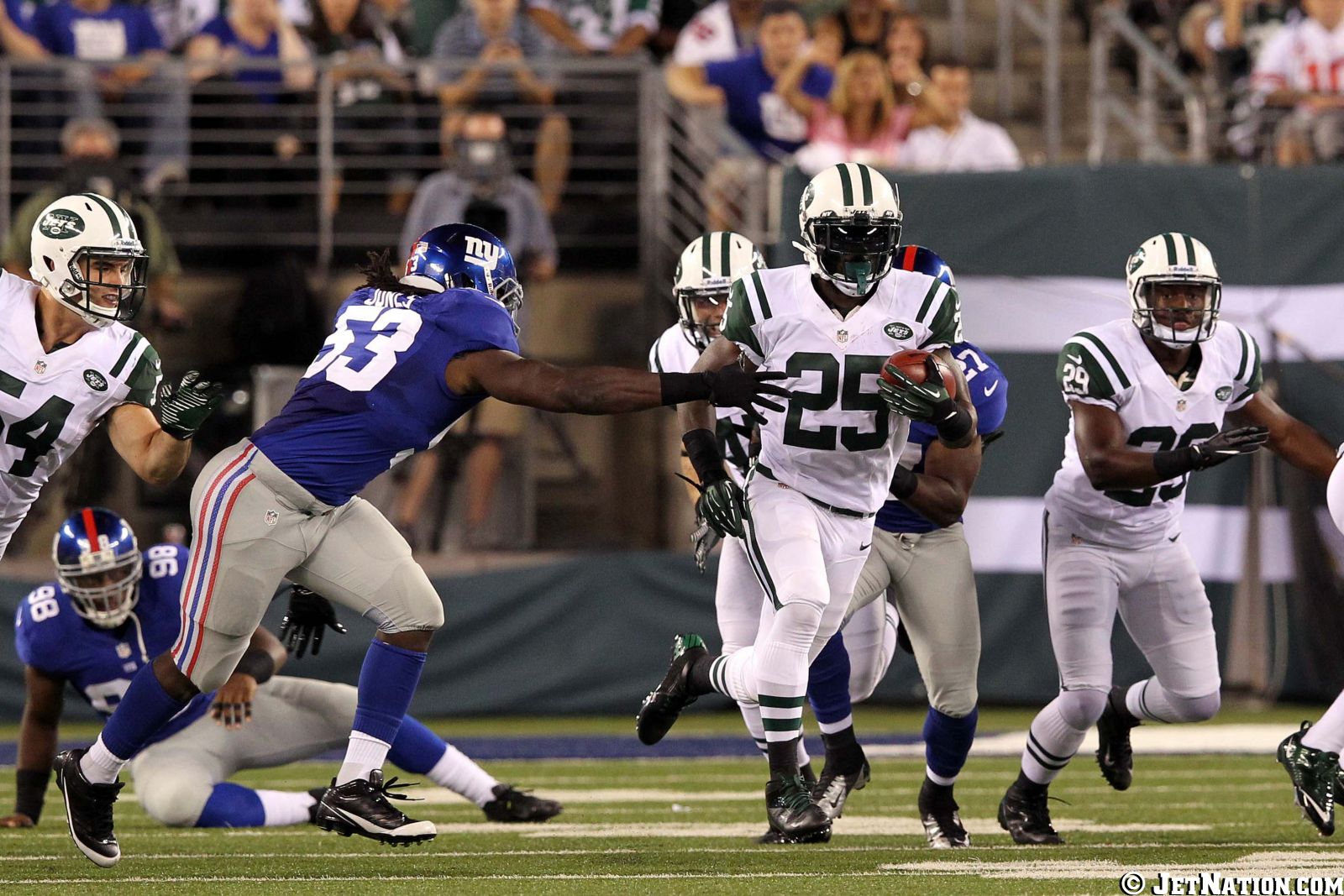 After a week of questioning and judging this team as a whole, the Jets third and most important preseason game is upon us. Starters will play well into the third quarter, and backups will have to really step up their game to impress the coaches before the first round of roster cuts on August 27th. As always, the Jets have been plastered all over the newspapers. They are the only team to not score a touchdown this preseason, Wayne Hunter replaced by Austin Howard and Tim Tebow hit a garbage can from 25 yards away. Well now all that talk needs to diminish and the Jets have to create an identity. Their opponent, the Carolina Panthers, come in with an electrifying quarterback Cam Newton and many weapons on offense (minus Steve Smith with a foot infection). This team has to show its coaches that they are getting better and that they are ready for a tough Week 1 opponent in the Buffalo Bills.
OFFENSE
Every fan knows the offense has been dismal in the first two games. "3 and out" has been a common term for this offense. The running game started to develop versus the Giants last weekend, which is encouraging. Shonn Greene (11 rushes, 36 yards) ran like a man possessed at times and seemed to have a fire that fans haven't seen in his three years with the team. The receiver core, if you want to call it that, was borderline invisible on the stat sheet. The leading receiver vs. the Giants was Jordan White with 3 catches for 28 yards. That's embarrassing to be quite honest. It's been rumored that both Santonio Holmes and Jeremy Kerley will play a few downs this Sunday night. We need to see Sanchez develop a chemistry with these receivers this week because the starters, and backup QB will not play in the final preseason game. Carolina's
secondary is adequate at best, so the Jets should be able to move the ball and hopefully put in a touchdown for the first time in three games.
Obviously the big news this week is Wayne Hunter has been ousted from his starting spot and Austin Howard, a former Baltimore Ravens practice player, has taken over that role. Rex seems to be very high on Howard's camp and Jets fans will get a chance to see him more this week. Carolina doesn't have a tremendous pass rush, but Charles Johnson (20.5 sacks since 2010), will test Howard, which will be a very good test for fans to see. Johnson is no Mario Williams or Jason Pierre-Paul, but it's our first chance to see someone other than #78 protecting Sanchez's right side.
Fans need to see Sparano open up the playbook a little more. The Jets need to implement more crossing routes, short drops for Sanchez (until he feels comfortable with his offensive line) and more effective short yardage plays. The Jets were 1-13 on third down last Saturday night. That cannot happen if they expect to even win 4 games this year. If Jet Nation doesn't see improvements in these areas fans will be extremely concerned and the negativity will continue until week 1 vs. the Bills.
DEFENSE
The Jets starting defense played very well against the Giants. Their "bend don't break" philosophy led to two Lawrence Tynes field goals before they were pulled in the second half. The only other time the Giants scored was on a 77 yard interception return, but that was against the Jets offense. The defense held the Giants to just 2-13 on third down, and 230 total yards overall. The defense looks quicker, more athletic, and overall like they have something to prove. The additions of Laron Landry and Yeremiah Bell have already made positive contributions. Landry with an interception of Eli Manning and a huge hit on Giants WR Victor Cruz and Bell with excellent coverage and 2 solo tackles. One thing the Jets defense will have is a nasty attitude, something they lacked last year. It would be nice to see the "run stuffers" continue to fly to the ball and make it difficult on Cam Newton as well as DeAngelo Williams and Johnathan Stewart to get anything going on the ground this Sunday. It would've been nice to see the Revis vs. Steve Smith matchup on the outside but with Smith's injury we won't get to see that. Carolina has weapons at the wide receiver spot besides Smith. Brandon LaFell and David Gettis who both have had very nice camps will be tough for the corners to defend. LaFell has size and Gettis is a speedster.
Another weapon Cam has is Greg Olsen at Tight End. We know that the Jets in the past have had a lot of difficulty covering the tight end so I think this is a matchup worth watching. Who is going to be covering the tight end, especially on 3rd and long? Can the Jets afford to send a linebacker in coverage when there's always a threat that Cam Newton will tuck it and run? It'll be very interesting to see how the Jets Rex and Coach Pettine defend the tight end.
The Jets are going to have to showcase Demario Davis with the first team at some point this offseason, so it will be this weekend. Davis should come in on third down situations, he can blitz or cover, but his blitzing ability and his ability to pick one direction and run full speed to it may help the pass rushers like Aaron Maybin and Quinton Coples. Coples has showed signs of improvement from camp into these first two games. Now he will be getting reps with the number 1 team and he's got to continue to impress and prove to coaches and fans he was worth the 16th pick.
Special Teams
The battle for place kicker has been one of, if not the best competition this camp. Josh Brown has his good days and bad, but so has Nick Folk. JetNation thinks that this game will truly solidify that spot for one of them. The way the Jets offense has stalled inside opponents territory, they may be really busy this Sunday. As for the punter T.J. Conley, punts of 19 yards and 23 yards on consecutive punts just won't get it done. His inconsistencies are not prominent among successful punters in this league. This will be a very important week for Conley. If he continues to be inconsistent, he may be cut as early as next week. It'll be interesting to see how he handles the pressure Sunday night.
In summation, this is a huge week for the Jets. People can say "well it's only preseason" all they want but in reality, fans need to see something to be hopeful about come week 1. This will be the last chance for the starters to prove that they have confidence and can be successful. Carolina is a great matchup for the Jets right now because their highly mobile and athletic quarterback paired with quick strong running game and a very good tight end will make it a good challenge for the regular season. Words cannot express how important Sunday night's game at MetLife Stadium will be for the players and most importantly, Jets fans.
Videos
New York Jets OTA Presser Takeaways, Aaron Rodgers' Impact and Summer Delusion