Game Recap Home Slider Jet News
Postgame Recap: Jets Lose To Panthers, 17-12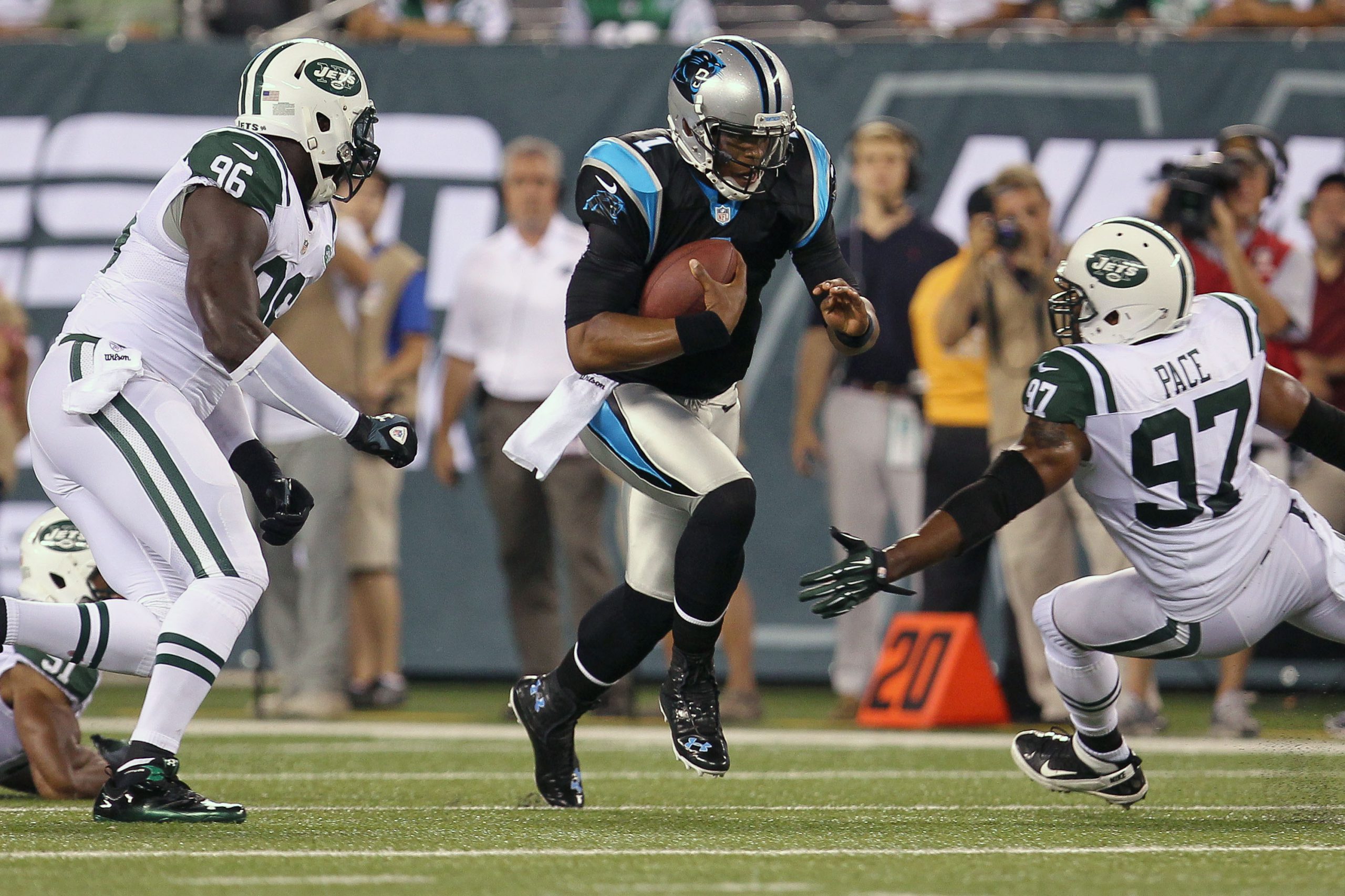 The Jets lost to the Carolina Panthers tonight 17-12, and they still haven't scored any touchdowns, but there are positives to take away from this game. This is the kind of game most fans expected last week, where the team looked better than in its first preseason game. Instead, there was almost nothing positive to talk about last week.
First, the defense looked great, particularly the run defense. They still need to get a little better protecting on third down, but most of the time they held the Panthers to field goals. The line performed well, and even got some pressure on the quarterback, which has been lacking in recent years. For the first time this preseason, we watched the defense really force fumbles.
LaRon Landry, Quinton Coples, and Kenrick Ellis were absolute defensive standouts this game. Coples and Ellis look like they're going to be major parts of the Jets defense sooner rather than later. Ellis, filling in for the injured Sione Pouha, was particularly impressive this game with four crushing tackles and half a sack. He showed a lot of hustle tonight. Landry had some hard hits and an interception.
One player who didn't look good tonight was Kyle Wilson. He was clearly beaten on a number of plays by Panthers receiver Brandon LaFell. Considering Wilson was selected by the Jets 29th overall in the 2010 draft, he's failed to live up to expectations. He's not a hopelessly terrible player, good as a nickel back, but not necessarily the best choice with your first round pick. No, he's not a Vernon Gholston caliber bust, but he hasn't shown exceptional talent either.
Joe McKnight, Jeremy Kerley, and Royce Pollard ran back kicks and punts this game.  McKnight averaged 32.7 yards per kick return. Kerley averaged 6.5 yards per punt return. It was good to see Kerley back in the game, looking healthy, with no lingering signs of injury. TJ Conley looked a lot better punting the football this week, averaging 56.5 yards per return. The place kicker competition between Nick Folk and Josh Brown was probably won by Folk when Brown missed a 45 yard field goal wide left.
And finally, there was the offense. Let's say they were more encouraging to watch this week. No, they didn't score any touchdowns, but they were at least able to move the football, get into field goal range at the least, and stay on the field for more than 45 seconds
The Wayne Hunter saga finally ended this week with the promotion of Austin Howard to starting right tackle. It's only been one game, but Howard more than held his own on the starting offensive line. The fact that it was easy to forget he was playing spoke volumes about how well he did. The whole offensive line looked better. When was the last time Mark Sanchez had so much time to throw? Hunter was used with the starters in the "jumbo package" as an extra lineman/tight end.
We've been told all through July and August that Sanchez has improved greatly this offseason, but this is the first time we actually saw evidence of it. His first two throws on the night were for 24 and 20 yards to Dustin Keller and Patrick Turner, respectively. He was fairly accurate throwing down the field. There weren't any decisions that made anyone say, "Why did Sanchez do that?"
Sanchez's final line on the night was 11 for 18 for 123 yards with one interception and no touchdowns. He was sacked once. It should be mentioned that Sanchez's interception was the result of rookie wide receiver Stephen Hill not being able to hang on to an entirely catchable pass. The deflection bounced right into a Carolina defender's hands. Hill had a few dropped passes that were catchable, and at one point in the red zone he was wide open but didn't turn around for the ball soon enough. It was a rookie mistake.
Santonio Holmes, in his first game back from injury, looked rusty. He had one catch for eight yards, but he did draw a penalty.
Tim Tebow entered in the second half and didn't do too well throwing the ball. He was a great at running it, but at this point, it's safe to say the "quarterback controversy" is over. In spite of the fact that people were chanting his name and excited to see him, Tebow's line on the night was 4 for 14 for 55 yards with an interception. He was sacked three times.
Even though Tebow wasn't any good throwing the football, Jets fans nearly got to see a little of the Tebow magic we were promised with 2 minutes left in the fourth quarter. He took the team down most of the field, but the drive stalled on the Carolina 27 yard line.
The offense drastically needs to improve in the red zone. The defense forced Panthers quarterback Cam Newton to fumble on Carolina's 12 yard line. Bart Scott recovered, and the Jets still couldn't get into the end zone. That said, at least this week they got to the red zone.
Finally, Dustin Keller (hamstring), David Harris (ankle), and Josh Baker (knee) all left in the first half with injuries. The Jets are already thin at tight end, so losing Keller and Baker hurts, and potentially means more Wayne Hunter at tight end. Keller is also one of Sanchez's favorite targets. Losing him for any length of time would be a real hit to the Jets already anemic offense. Keller and Harris got off the field under their own power, but Baker's injury looked serious. A Panthers defender took out his legs when Baker was trying to catch a Sanchez pass in the end zone.
The Jets wrap up their preseason this week against the Eagles in Philadelphia this Thursday night. The starters won't be playing, but it will be interesting to see how Greg McElroy and Matt Simms compare at quarterback.
Videos
Aaron Rodgers Injury Fallout & Jets/Bills Recap