NY Jets Bounce Bills, 48-28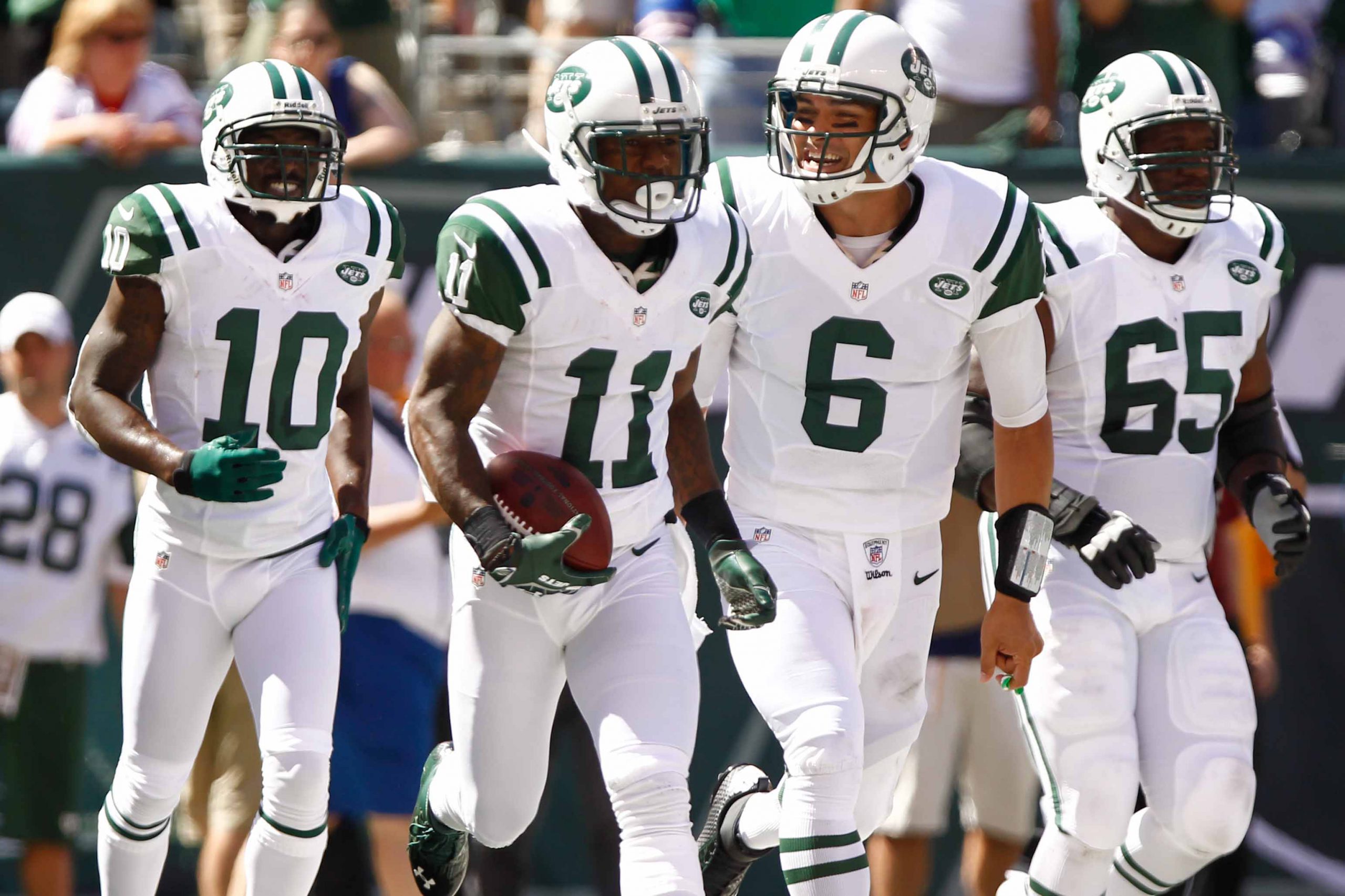 Mark Sanchez wasn't kidding when he said the New York Jets were saving their best stuff for the regular season. Sanchez and the Jets knocked out the Buffalo Bills, hard, 48-28 in Week 1.
This must have been sweet for the Jets who, since the preseason ended, have been listening to the media declare their season over before it had even started. With 48 points, the Jets might also have beaten their projected number of points on the season.
Aside from quieting the "Jets won't ever score a touchdown in the regular season, either" crowd, this might be one of the most complete games the Jets have played in recent memory, doing a solid job on all sides of the ball.
When Mark Sanchez made a bad decision early in the first quarter – a shovel pass behind Jeff Cumberland that was deflected for an interception – it looked for a while that things might continue the way they had at the end of last season, but Sanchez was bailed out when Darrelle Revis intercepted Bills quarterback Ryan Fitzpatrick. Sanchez then led the Jets from their own 39 yard line to the end zone, capping the drive with a 12 yard pass to Jeremy Kerley.  The Jets never looked back.
Sanchez's final line on the day was 19 for 27 for 266 yards with 3 touchdowns and 1 interception. His passing rating was 123.4. Sanchez was not sacked today. The offensive line held up against a good defensive line – Mario Williams was a non-factor. Austin Howard's name was never mentioned, that's how well he did against Williams.
Kerley had a huge game, scoring two TDs – one on the reception from Sanchez and one on a 68 yard punt return. He became the first Jets player in history to have a punt return touchdown and a receiving touchdown in one game. Rookie wide receiver Stephen Hill also had a big day, with five receptions for 89 yards and two touchdowns. Santonio Holmes nearly made an incredible play in the end zone for a touchdown, but his hand was out of bounds before his second foot came down. Holmes finished with four catches for 68 yards.
The Wildcat offense appeared a number of times, but it didn't seem to disrupt Sanchez. Tim Tebow was minimally effective as a quarterback, but he recovered an onside kick without difficulty and did a good job lining up.
While the offense seemed incredibly impressive considering all the nothing we saw from them in preseason, the story of this game was the defense. They forced four turnovers; three interceptions, one each by Revis, Antonio Cromartie, and Kyle Wilson, and one fumble. Fitzpatrick was lucky he wasn't picked off even more frequently. The defenders got their hands a few passes that they didn't catch. The problem of guys catching balls over the middle against the Jets leading to big yards seems to be over with the additions of Bell and Landry. Landry was taking people down left and right. He knocked Fred Jackson out of the game early.
The only weak spot for the Jets defense was CJ Spiller, who ran for 169 yards. He had two long runs – one that ended in a touchdown and one that set up a touchdown. The Jets also gave up three touchdowns in the second half after the game seemed over, but one of those touchdowns was a direct result of Revis coming out of the game with a head injury. Revis getting hit in the head was the only down moment for the Jets, but so far, Revis seems to be okay and his injury isn't too big a deal.
Robert Malone, the new punter since the Jets cut TJ Conley, only appeared twice this game, but did a good job, averaging 51.5 yards per punt. Nick Folk kicked one field goals, one from 25 yards out and one from 39 yards out.
It's just one game, but the Jets came out and not only won a game they needed to win, they put on a show doing it. Fans can take a breather.
The Jets are in Pittsburgh next week. Kickoff is at 4:25 PM. The clown car has left the station. Maybe there's room for the rest of us.
Videos
NY Jets Phase 3 OTAs, Expectations and a Minor Calf Tweak with Greg Renoff