Game Recap Home Slider Jet News
49ers Shutout Jets, 34-0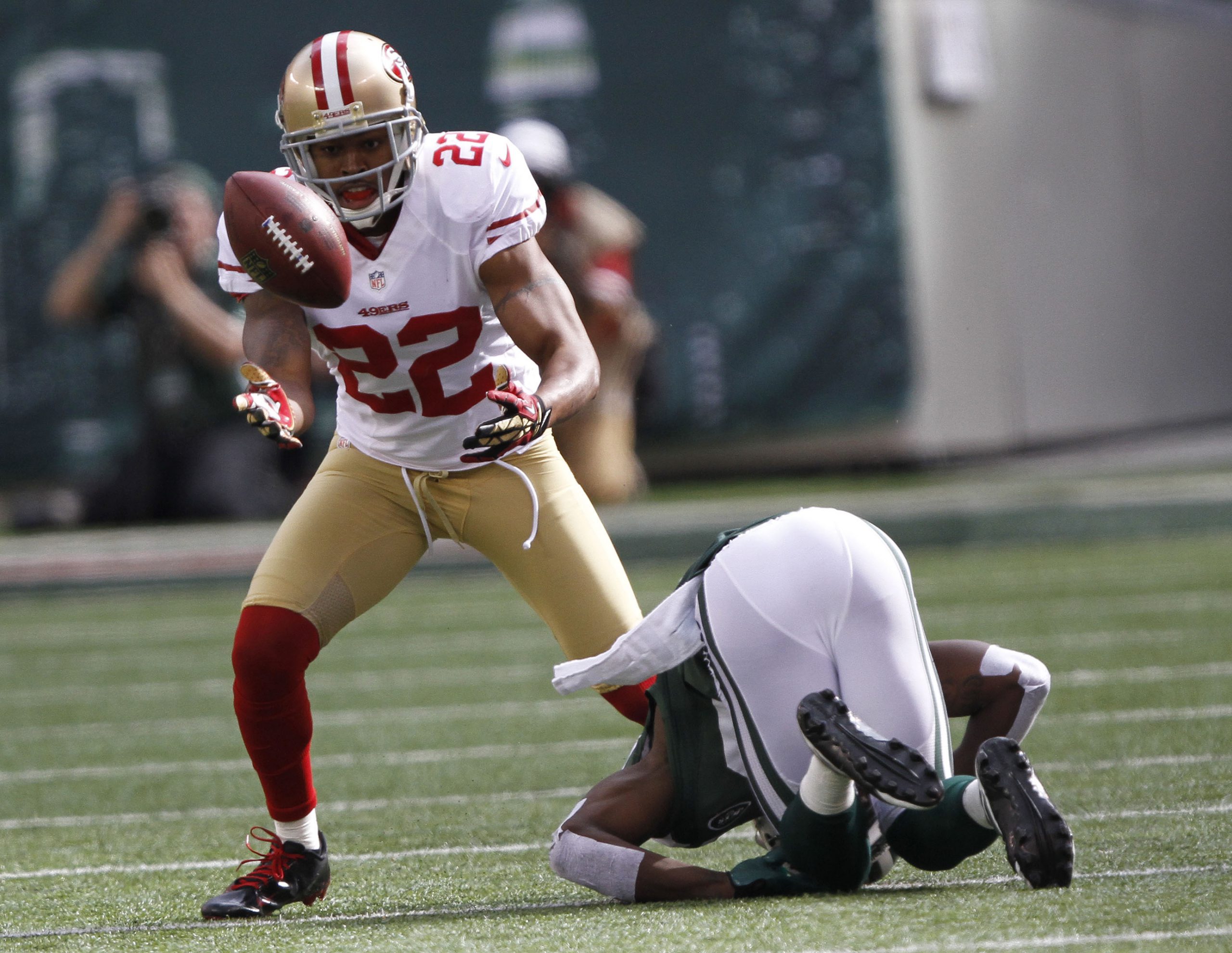 It isn't frequently that an NFL team gets shut out, but the Jets pulled it off this week, losing 34-0 to the San Francisco 49ers.
The Jets defense wasn't great – they didn't do well stopping the run – but the defense was helpless to counterbalance the completely inept offense. When the offense wasn't going three and out, it was turning the ball over. Turnovers destroyed the Jets; they lost three fumbles and Mark Sanchez threw an interception. Sanchez was awful today, throwing 13 for 29 for 103 yards, no touchdowns, with an interception and a fumble. His quarterback rating was 39.3. The 49ers have a good defense, so credit where it's due, but that's really no excuse for the Sanchez's terrible numbers and the Jets to score no points.
The Jets were shorthanded to start with on offense, with Dustin Keller missing his third consecutive game with a hamstring injury and Stephen Hill out with his own hamstring injury. To add injury to insult, in this case, Santonio Holmes went down in the fourth quarter with a foot injury, while fumbling the ball, which was run back for a touchdown. Holmes left the game and didn't return. His X-rays were negative, but he'll be having an MRI tomorrow to check for ligament damage.
And to top it all off, the running game did nothing…again. Shonn Greene, Bilal Powell, and Tim Tebow combined for 17 carries and 45 yards.
Anyone who was expecting to see Tebow in garbage time during this blowout was sorely disappointed. Tebow didn't take over. In fact, he didn't play much at all. In spite of Tony Sparano using the Wildcat in Miami, it's looking more and more like the Jets only plan for Tebow was to sell jerseys. The game plan where he plays quarterback and revitalizes the offense hasn't materialized, and considering that we all know how he throws, that probably won't happen even if he does take over.
It's concerning having a backup quarterback who can't throw because at this point, it's looking more and more like Sanchez needs to be benched and there's nobody to replace him. The Jets could decide to play Greg McElroy, and there's been no indication that's going to happen. This was the big step forward Jets fans were promised? It looks like more of the same. It might actually be getting worse.
The idea that Tebow might be a savior for this team is ridiculous. Yes, he can run and win some games, but if this is a passing league – which is the other main argument against Sanchez, and the biggest argument against a run-first approach and why the Jets wouldn't win Super Bowls even with a top tier running game – Tebow being quarterback just delays the inevitable. Sanchez sometimes throws decently and wins some games, but not enough games. The Jets are not winning with Tim Tebow, either.
It wasn't like the 49ers offense put up spectacular numbers. Quarterback Alex Smith completed 12 of 21 passes for 143 yards with no touchdowns. The biggest difference was that the 49ers didn't turn the ball over and have a decent running game. They rushed for 245 yards, and their top three rushers – Frank Gore, Kendall Hunter, and Colin Kaepernick – all had more rushing yards than all the Jets running backs combined.
The Jets special teams also managed to have their own blunder that cost the team points.
This game was ugly, but it was only Week 04. The Jets are 2-2 and could still turn this season around, but it's going to have to happen fast, and it's not going to happen if nobody steps up, particularly on offense.  Mark Sanchez has to be better than what we've seen from him so far, but even if he is, who's he going to throw to? If Holmes is gone for any length of time, the Jets are going to have to sign a receiver. They should have before now, but if Holmes is gone they really have no choice. Chaz Schilens is due to be injured any second and is mostly unproven, Jeremy Kerley is inexperienced, and Hill is still going to be raw when he comes back from his injury.
It's too early to write this season off, but it doesn't look good if there isn't some drastic improvement very quickly. On the other hand, most people expected this team to be 2-3 after five weeks, and it looks like that's exactly where they're going to be.
The Jets host the Texans next week on Monday night. Kickoff is at 8:30.
Videos
Aaron Rodgers Injury Fallout & Jets/Bills Recap