Game Previews Home Slider Jet News
Jets vs. 49ers – Week 4 Preview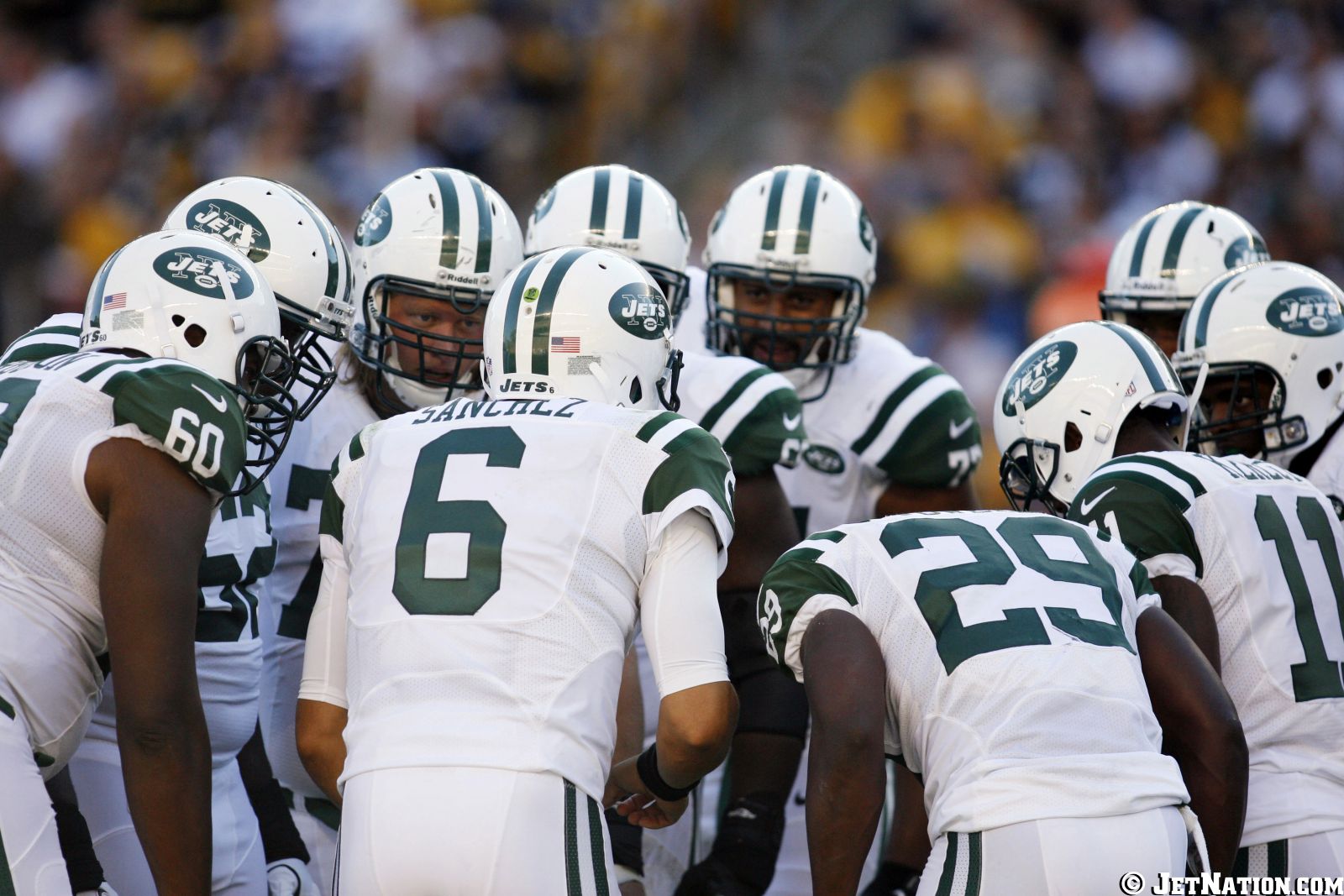 The San Francisco 49ers come to town after a bad loss in Minnesota last week. Powered by a shut down defense and a much improved offense, the 49ers are going to be a tough test for the Jets this weekend. San Francisco leads the overall lifetime series 9-2.
Offense
San Francisco made major improvements to their receiving core this offseason. Signing veterans Randy Moss and Mario Manningham has helped bolster last year's "manage-the-game-let-the-defense-win-it" philosophy. They now have 4 weapons in the passing game in Moss, Manningham, Michael Crabtree, and Vernon Davis. Frank Gore has rushed for 264 total yards and is averaging almost 6 yards per carry. The Jets defense has struggled so far this year at stopping the run, and Gore is the best back they've seen so far.
Without Revis, Kyle Wilson will have to cover Manningham or Crabtree when Antonio Cromartie is on Randy Moss. It's going to be a tough assignment for the corners, but the guy who raises the biggest risk is Vernon Davis. He's a tight end with wide receiver speed. He's their #1 deep threat in the passing game and the Jets struggled against the tight ends like Scott Chandler and Anthony Fasano (who aren't nearly as fast and explosive as Davis).
49ers offense vs. Jets defense ADVANTAGE: 49ers
Defense
San Francisco's defense is the staple of their team. Led by Navorro Bowman and Patrick Willis, the 49ers have speed, size, and strength making it one of, if not the best defenses in all of the NFL. Aldon Smith is a relentless pass rusher who already has 2.5 sacks this season. Their linebackers are solid and fast and play with a lot of emotion. Two of their most underrated players are their safeties, Dashon Goldson and Donte Whitner. Both guys are hard hitting safeties but very good cover guys as well.
There are two weaknesses in the San Francisco defense that the Jets need to exploit. The first is the interior defensive line. The two defensive tackles, Justin Smith and Ray McDonald. Smith has been very good the past few years, but he's 32 years old and seems to have lost a step. McDonald is a guy that tends to pick a side on running plays and if he chooses the wrong side, the Jets may be able to get their offensive line up to the second level (linebackers) and have a little success running the ball. The only other weakness in San Francisco's defense is CB Tarell Brown. He's a risk taking corner that Sanchez and Holmes may be able to exploit. Carlos Rogers is solid at the other corner, and if his job this week is to cover Holmes, Schilens and Kerley may be Sanchez favorites this week.
49ers Defense vs. Jets Offense ADVANTAGE: 49ers
Special Teams
San Francisco has two of the best kickers in the league. Andy Lee is their punter and he's averaging 46 yards per punt.
David Akers is 5-5 on the year with a NFL record 63 yarder.
The returners are Kendall Hunter and Kyle Williams(who fumbled twice vs. the Giants in NFC Championship game last year).
Videos
Aaron Rodgers Injury Fallout & Jets/Bills Recap