Game Recap Home Slider Jet News
Jets Run Over Rams, 27-13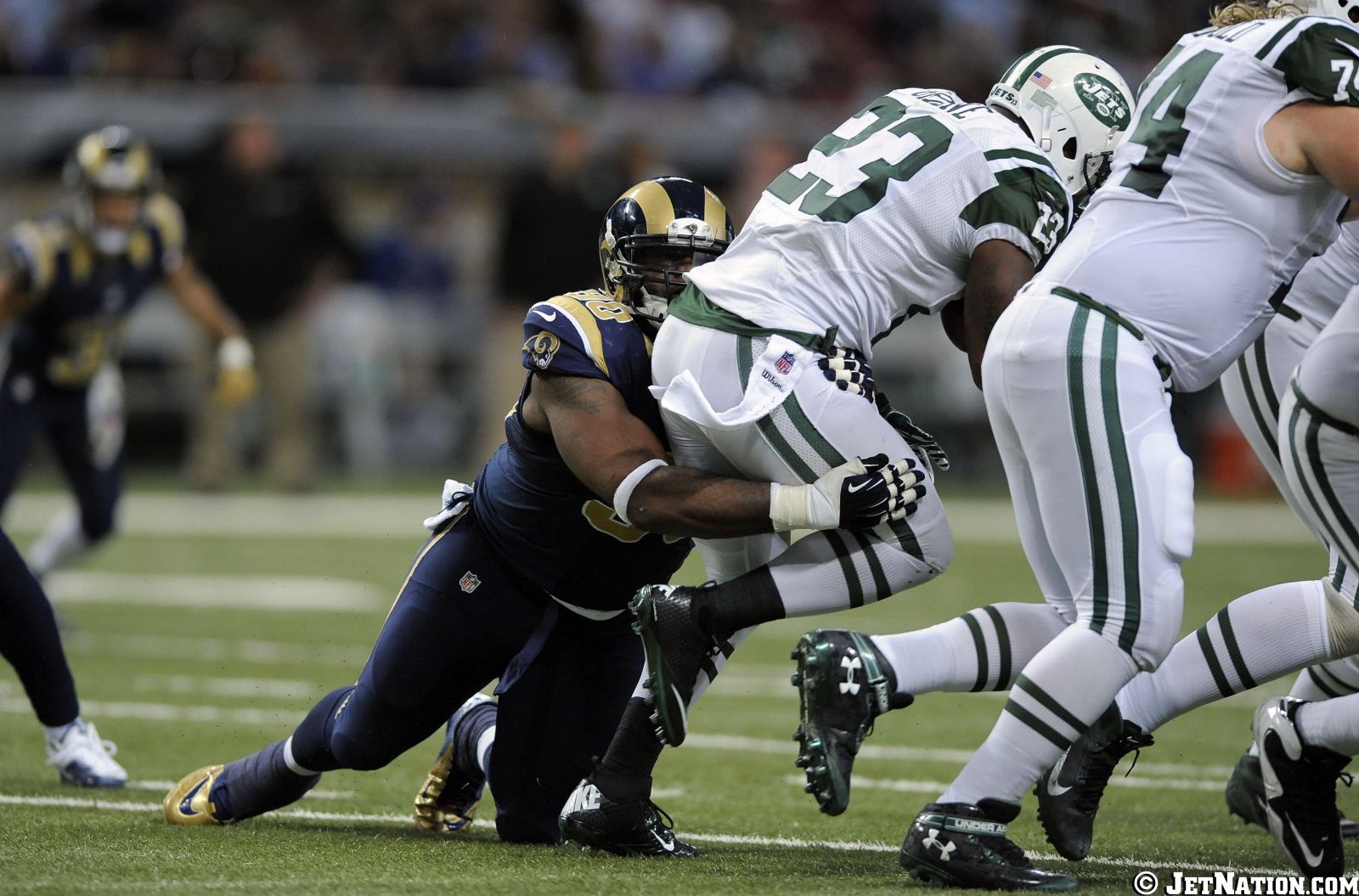 The Jets got a much needed win this week, beating up on the St. Louis Rams, 27-13.
The score probably should have been higher, but the offense was completely inept through the first quarter. Nick Folk had a field goal blocked and missed his first field goal of the season. The win improves the Jets to 4-6, and while it's still the Rams and 4-6 isn't good, it was nice to watch the Jets win for the first time in over a month.
The first quarter looked like more of the same, with Mark Sanchez struggling and Stephen Hill dropping a key pass on the opening drive. A note on Hill: he is not ready to be the big guy on the receiving corps. Compensate by targeting Chaz Schilenz more often or maybe even Clyde Gates, but Hill isn't ready.
Mark Sanchez's final line on the day was way better than usual. He was 15-20 (75%) for 178 yards with 1 touchdown and no interceptions. His QB rating was 118.9. Sam Bradford put up more numbers that were more like Sanchez's usual numbers, which helped the Jets a lot.
Because Sanchez wasn't so utterly hopeless today, we can focus on how shaky the offensive line is. Sanchez holds the ball too long, every game, but he was sacked three times today due to poor protection. Fortunately, Sanchez managed not to lose the football to the Rams – although he did fumble once, he was able to jump right on it and recover it.
The defense, except for St. Louis's opening drive, held the Rams to two field goals the rest of the game, and looked fairly solid except for some missed tackles. They forced two turnovers – an interception of Rams' QB Sam Bradford by Eric Smith (yes, THAT Eric Smith) and a fumble forced by Mo Wilkerson that Bart Scott returned for 30 yards before being brought down by Matt Mulligan (yes, THAT Matt Mulligan), now a Ram. Wilkerson has really stepped up his game for the Jets defense in the last few weeks.
The special teams has gone from one of the best units in the league to a borderline disaster. Kyle Wilson began returning punts due to multiple injuries to Jeremy Kerley, who stuck it out on offense. Wilson muffed a punt but recovered. On a kickoff return, the special teams allowed Chris Givens to return a punt for a 63 yard touchdown that was only nullified by a questionable holding penalty. Does anyone know if Mike Westhoff retired already? It feels like this is happening more and more frequently.
That said, there were some offensive bright spots, and we don't get to talk about them much. Joe McKnight looked good running the ball, especially after coming off an ankle injury. Bilal Powell also looked good. He powered forward through small holes and to his NFL professional touchdown.
The major subplot of today's game was that the Jets were going up against their former offensive coordinator, Brian Schottenheimer. It was good to get the win against his offense. Tony Sparano might not be the man to fix the Jets' continuing offensive woes, but it was beginning to creep into the narrative that maybe Schottenheimer wasn't a problem for the Jets. The Jets have a lot of issues, but that doesn't mean that Schottenheimer wasn't one of them.  Every time St. Louis had a runner in motion, Jets fans had to crack a smile.
The Jets next national embarrassment game is against New England in just four days, on Thanksgiving. Kickoff is at 8:20 PM. Happy Thankgiving, Jet Nation! At least we can be grateful we're not Bills fans.
Videos
Aaron Rodgers Injury Fallout & Jets/Bills Recap