Featured Editorials Home Slider
NY Jets Day After Drill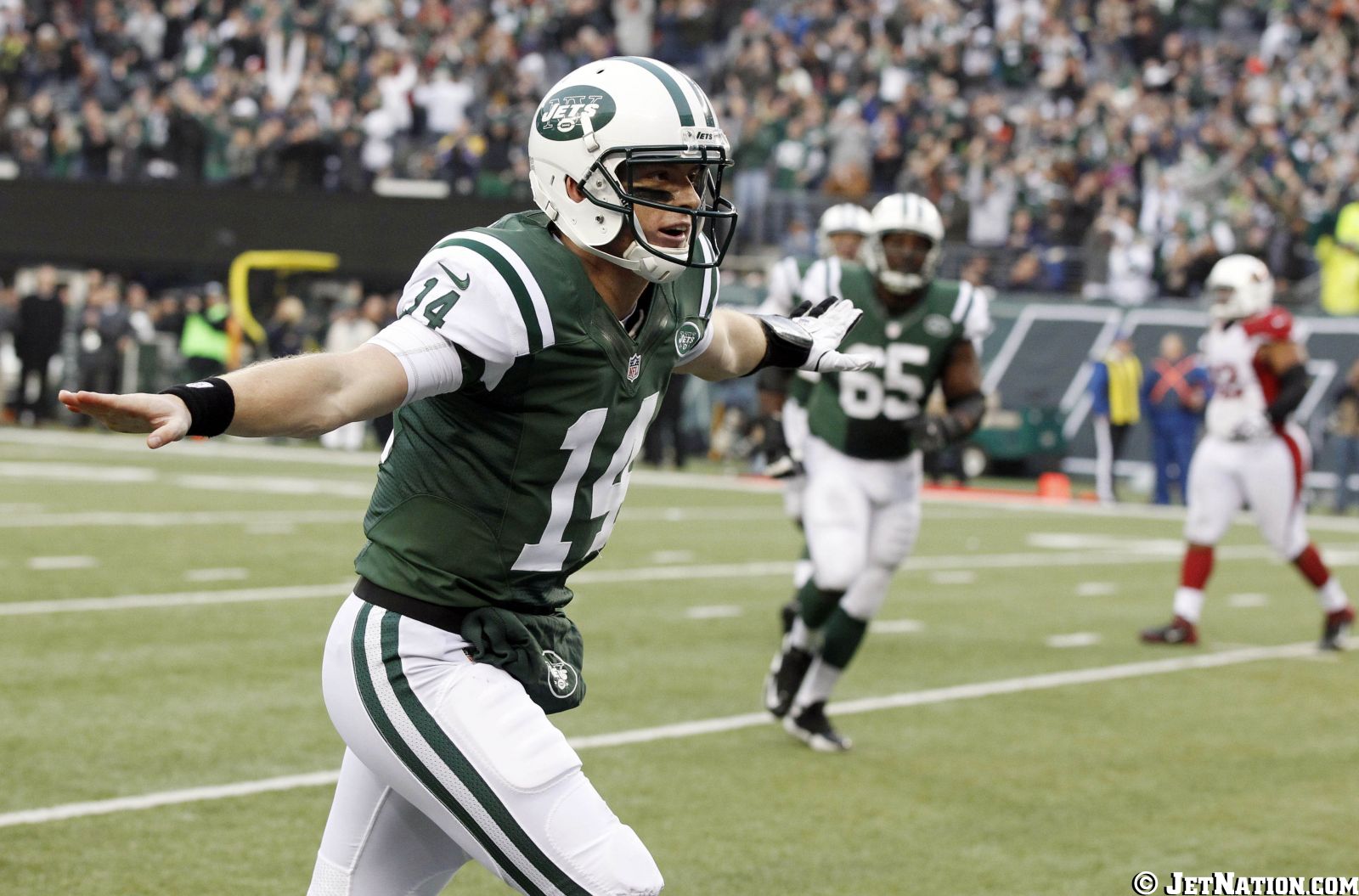 Greg McElroy is certainly no stranger to big games.  Hearing the cheers of tens of thousands of screaming fans was something he enjoyed every Saturday at a big time college program like Alabama.  But I am sure never in his life did he hear such a roar of enthusiasm for simply strapping on that helmet as he did in the third quarter of yesterday afternoons contest against the Arizona Cardinals in an unimpressive, boring, yet franchise changing 7-6 victory for the New York Jets.  It seemed at that point, Rex Ryan had finally had enough.  As Mark Sanchez' 21st pass attempt was knocked out of the sky, like so many other passes during the season, Ryan finally signaled on the sidelines to get the kid ready.  As the punting unit was going about their workman like duties, an out of place crescendo of cheering filled the stadium.  Even at home, without any visual evidence, every well versed Jets fan watching on TV knew what was about to happen.
The clearly emotionally exhausted, listless, and expressionless Mark Sanchez would be wearing the baseball cap and manning the clipboard for the remainder of the afternoon.  And perhaps the better part of his remaining career. While McElroy's performance was not the stuff of Hollywood endings, he was good enough to lead the Jets down the field in his first series and throw the only touchdown pass the Jets would need.  There was an energy in that stadium that perhaps had not been there on any other day Gang Green was the Sunday home team.  The defense seemed to play harder.  The running backs seemed to run harder.  The offensive line seemed to want to make sure McElroy had his day in the sun.
With 4:48 remaining in the third quarter and the Jets down 3-0, McElroy made his way to the front of the huddle, undoubtedly filled with the excitement of the moment and the nervousness of the pressure.  He then proceeded to lead a 10-play drive ending with a well-conceived play action roll out to his right on 3rd and goal where he found tight end Jeff Cumberland uncovered in the back of the end-zone.  He floated a pass in the fashion a father may throw a ball to his young son, making certain the ball found its target.  Joe Montana to Dwight Clark it was not, but for this football team and these frustrated football fans, it may as well have been "The Catch".  It capped off the scoring drive comprised primarily of running plays, seven runs and 3 passes to be exact.  In the end, McElroy was 5 for 7 for 29 yards and a touchdown.  Not a stellar outing, but on this day, it was enough.
I just hope it was enough for Ryan to give the young quarterback a majority of the practice reps this week and make that well needed change permanent.  You have to wonder if this adjustment gets made without the injury to Tim Tebow.  It is pretty obvious they did not respect his quarterbacking skills enough to pull Sanchez when he was the back up.  Would they have had the courage to bypass a healthy Tebow in favor of McElroy, further opening the door for endless questions as to why Tebow was brought to New York in the first place?  I would love an answer to that question, regardless of how things transpired this weekend.
There was a moment during this game when my emotions regarding the Mark Sanchez situation began to turn less selfish in nature.  It was getting very difficult to watch Sanchez walk off that field after every interception or failed third down pass with the chorus of boos raining down upon him.  It was as if with each passing series the camera got just a little closer to his face.  At some point I realized that even he was hoping the change was coming.  He played the good soldier on the sidelines, offering a little arm pump after the touchdown pass. But you had the idea he was already running scenarios in his head of which NFL team would be a good fit for him next year.  Sanchez truly embraced being a New York Jet, and I believe he wanted nothing more than to be a winner in a city like New York.  To bring these starving fans a Super Bowl would have firmly planted a legacy in both the city and the NFL, but it wasn't meant to be.  The cold reality is he just isn't good enough, nor is this team.
The Jets travel to Jacksonville this week to battle the 2-10 Jaguars.  At 5-7, The New York Jets still have such slim playoff hopes it is hardly worth mentioning.  Yet as a fan, I am looking forward to a Jets game for the first time in a while.  It would be hard to fathom a step back in time, so I am just assuming Greg McElroy will lead the team and I am anxious to see what that brings.  I have no aspiration that he will become the feel good story of the year and win himself a starting role permanently, but it would nice to have at least one NFL caliber QB going into next year.  For now, I hope the Sanchez era is behind us and he has seen his last days as a Jet. McElroy has a chance to prove his worth, and Tebow will sit and watch on the sidelines of Jacksonville's EverBank Field, perhaps where he should have been all along.
Videos
Aaron Rodgers Injury Fallout & Jets/Bills Recap