Game Recap Home Slider Jet News
Jets Fall to Titans 14-10; Playoffs Officially Out of Reach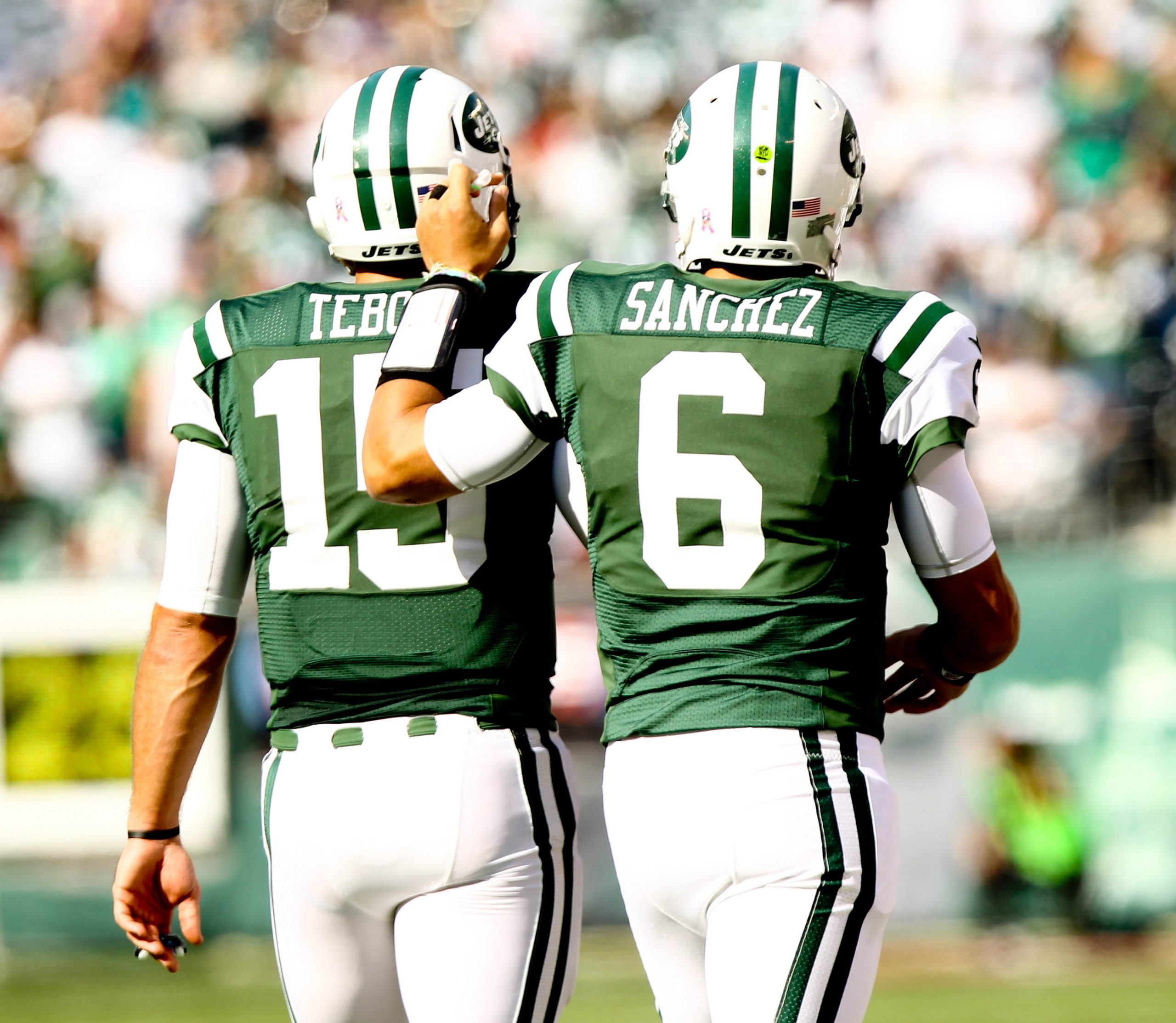 In case you missed it, the Jets 2012 already slim playoff hopes were crushed Monday night when they lost 14-10 to the Tennessee Titans on national television.
Where to begin? Well, there were all the usual culprits. The defense made a mistake that let Chris Johnson run for a 94 yard touchdown, and Kyle Wilson got abused on the Titans' second touchdown drive, where Titan quarterback Jake Locker looked like Tom Brady. Somehow, Jeremy Kerley returned what felt like no punts.
But as per usual, the offense was a mess. That's not even really fair. Mark Sanchez was a mess.  Sanchez committed five turnovers. Yes, five – four interceptions and a fumble to end the game. The turnovers were in the red zone, they were bad decisions, they killed momentum and the Jets' season. The Titans nearly gave the Jets the game by being a disastrous (at the time) 4-9 team, botching the punt and giving them the ball back with about 30 seconds left on their own 25 yard line.
Yes, the Jets had the ball on the Titans' 25 down 4 points with 30 seconds left. But never fear, Tennessee! Yes, Mark Sanchez comes through again for the other team's fans, managing to botch the snap and lose the ball. It happened so fast that you barely had time to be let down.
Do Sanchez's numbers even matter anymore? For the record, here they are: 13 of 28 for 131 yards, 1 touchdown, 4 interceptions, 1 fumble and a QBR of 32.6. Your franchise quarterback, ladies and gentleman! He's inaccurate, he can't read defenses, can't feel pressure, can't hold on to the ball, and can't not throw it to the other team. If he were at a party, he'd be Buzz Killington.
Tim Tebow got his own series this game. Yes! The moment we've all been waiting 14 games for was also a complete letdown. There were some decent runs, including a decent one by Tebow himself, and then it stalled. It was also right after Sanchez looked like he might be getting into a rhythm, which made the decision confusing. ESPN commentator Jon Gruden mentioned the uneven, incomprehensible use of Tebow and Sanchez throughout the game.
The Jets entire offensive game plan continues to be bafflingly awful. Sanchez completes some passes, they go to Tebow. Tebow is used incorrectly. The play calling is atrocious, whether it's throwing the ball on third and short or running Greene up the middle or never throwing past the first down marker.  Tony Sparano's mismanaged the offense all season, and we're well beyond giving him the benefit of the doubt. The offense isn't all that talented, but Sparano isn't getting the best out of them.
Rex Ryan is not entirely blame free, either. His decision not to dress Greg McElroy makes absolutely no sense because both his other active quarterbacks are terrible. Are they afraid McElroy might not throw an interception, not fumble the ball, or not kill every drive all on his own?
Braylon Edwards' much anticipated reunion with Sanchez made little impact on the game – not really Edwards' fault – but he looked pretty healthy. He said later that he hopes to remain a Jet, but you have to wonder if he's seriously reconsidering his tweet saying it's not Sanchez's fault.
In spite of Sanchez's ineptness, he's getting little help. The offense isn't talented and lacks depth, which is completely on general manager Mike Tannenbaum. This is the second primetime national embarrassment for the Jets in a month. Woody Johnson has to be paying attention now.
As dismal as the Jets offense is, there were some bright spots. As mentioned, Edwards seemed healthy and says he wants to stay. Jeremy Kerley has proven he's a solid second option. And Bilal Powell has emerged as a capable running back. Joe McKnight looks solid when they give him the ball.
The good news looking forward is that the defense has the building blocks to be good for years to come. Quinton Coples is really coming along. Mo Wilkerson is emerging as a force. Antonio Cromartie has been Pro Bowl caliber. LaRon Landry has been one of the Jets best pickups in years. The line has been pretty good. And of course, we're all anticipating Darrelle Revis's return next season.  If the Jets can pick up some speedier linebackers, the defense is going to be fine.
Next week is the last Jet home game this season, and they play host to the San Diego Chargers. Don't forget that the NFL flexed the game. Kickoff is now scheduled for 1 PM – the original schedule says 8:30 PM.
Videos
Aaron Rodgers Injury Fallout & Jets/Bills Recap