Game Previews Home Slider Jet News
New York Jets At Buffalo Bills Game Preview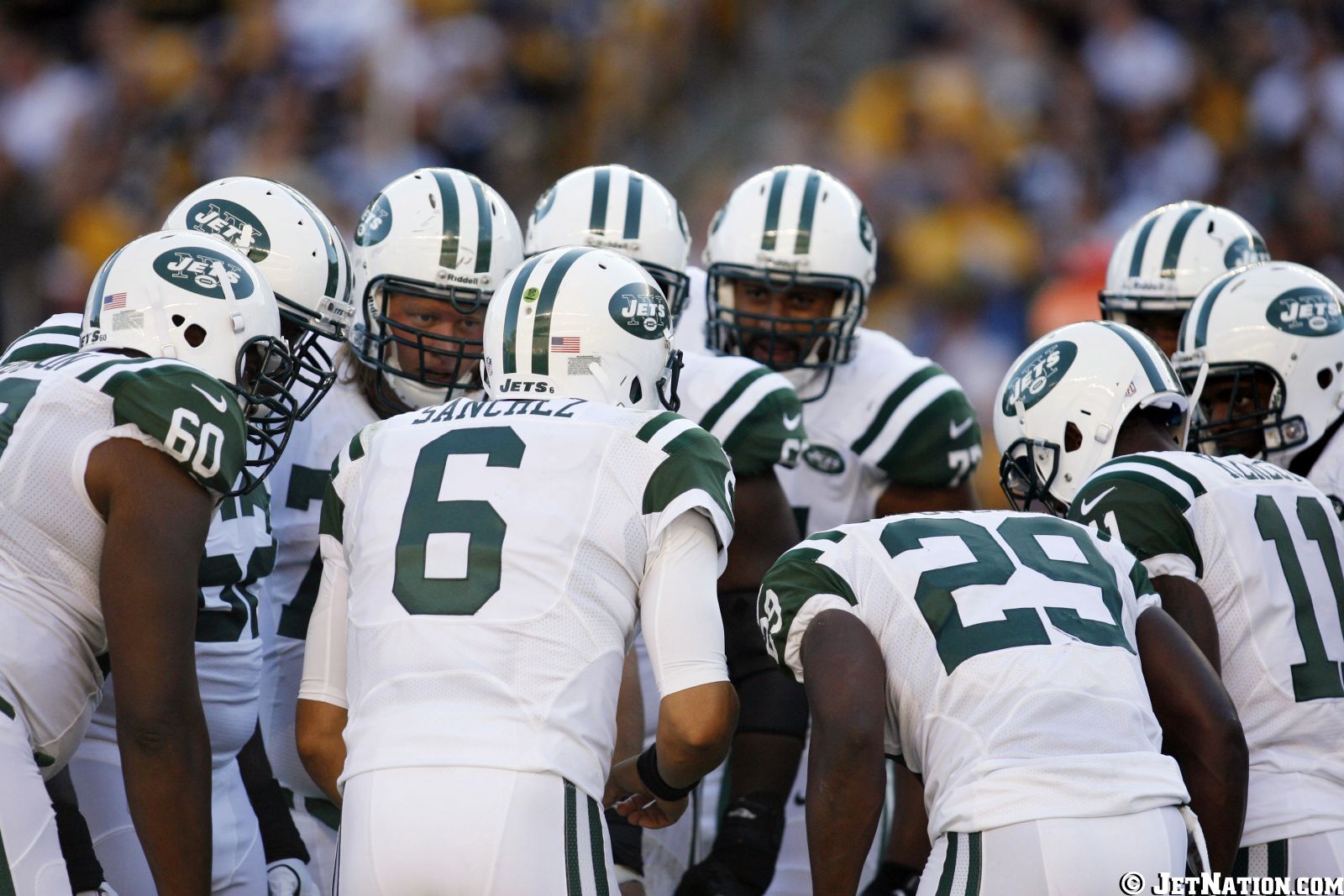 Franchise Head to Head Record: Buffalo leads 53-50(with Jets winning 8 of last 9 meetings)
The 'Battle for the Basement" will take place in Buffalo this Sunday.  The 6-9 Jets, led by once-benched, now starting QB Mark Sanchez (McElroy is out with concussion) take on the 5-10, injury-riddled Bills team.  The Bills have a ton of key injuries on the offensive side of the ball, including Fred Jackson, Scott Chandler and OT Chad Rinehart.  On defense they are going to be without CB Leodis McKelvin, Chris Kelsay, Terrence McGee, S Jairus Byrd and could be without big money free agent DE Mario Williams again.  The Jets have their fair share of injured player, most noteably, McElroy, and Dustin Keller.  Both teams have nothing to play for but pride and hopefully to save their head coaches.  Both teams will need to make significant changes in the off season to compete with the perennial division winner New England Patriots and the young, but improved Miami Dolphins.
OFFENSE
As an offense, the Bills are ranked 29th in the league in turnovers, and 20th overall in points.  Ryan Fitzpatrick is still the QB for the Bills.  He's completing over 61% of his passes for 23 touchdowns and 16 interceptions this season.  He's thrown for over 3,000 yards, but his overall QBR for the year is 45.08.  He's been sacked 30 times this year for a team that hasn't ran a lot of total plays offensively.
RB C.J. Spiller has been their most explosive player.  Spiller came in in Week 1 against the Jets and ran for 156 yards.  This year overall Spiller has 1185 yards, 6 touchdowns, to go along with 46 receptions for 387 yards and one touchdown with only 2 fumbles.  He's averaging over 6 yards per carry, which is one of the highest in the NFL.  He's the guy that the Bills want to get the ball to.  It'll be heavy doses of Spiller all game.
The WR group, led by Stevie Johnson (73 rec., 935 yards, 5 TDs) have been mediocre at best for Fitzpatrick and the Bills offense.  Their second leading receiver is on injured reserve (Scott Chandler) and the third guy on that list is WR Donald Jones, who's also out this week.  Enter Rookie T.J. Graham(30 rec, 317 yards) and Ruvell Martin (3 rec., 30 yards) as Fitzpatrick's second and third options at WR.  Ex-Jet Brad Smith has only caught 12 passes this year, but will be used as the Wildcat quarterback early in games to throw off defenses.  The Bills are onto their third string TE, Lee Smith because of the injuries to Chandler and David Nelson.  He's caught only 4 passes this year.  This is why Spiller has caught so many passes.
Jets Defense vs. Bills Offense ADVANTAGE: Jets
DEFENSE
The formidable pass rush of the Bills that looked so good on paper before the season is now virtually non-existent.  Mario Williams has been their best pass rusher creating 10.5 sacks.  He is questionable for this weekend's game.  Other than him no one has more than 5 sacks.  Marcell Dareus and Kyle Williams each have 5 sacks each and free agent signing Mark Anderson hasn't given them the production that they have been looking for.  Nevertheless, the Jets offensive line gave up 11 sacks last week and these four guys would still be a bigger threatening pass rush then the one the Jets saw last weekend with the Chargers.  This is a definite cause for concern for the Jets this week.
Their linebackers are Nick Barnett(101 tackles,2 sacks, 3 forced fumbles), Kelvin Sheppard(69 tackles, 2 sacks) and rookie Nigel Bradham(38 tackles).  With the exception of Bradham, these linebackers are an aging group.  They are very good run stoppers, but have struggled in the passing game all year.  They have a combined 3 pass deflections this year.
Their secondary has been banged up all year.  McKelvin is out and safety Jairus Byrd is questionable.  Byrd is third on the team with 71 tackles, and leads the team in interceptions in his contract year.  Rookie Stephon Gilmore has had a good first season at corner.  With McKelvin out, he has stepped up into the lock down corner role, playing the other teams best receivers week in and week out.  The corner replacing McKelvin is Aaron Williams.  The safety opposite of Byrd is George Wilson who is second on the team in total tackles with 92.
Jets Offense vs. Bills Defense ADVANTAGE: Bills
SPECIAL TEAMS
The punter for the Bills is Shawn Powell.  He's averaging a little over 44 yards per punt, with a long of 62.
The field goal kicker is Rian Lindell, who's hit 21-22 field goals attempted this season.
With McKelvin out, Brad Smith has been returning kickoffs.  He has one touchdown on kickoffs this season.
Returning punts is Justin Rogers, who has 3 returns for 14 yards.
Videos
Aaron Rodgers Injury Fallout & Jets/Bills Recap