Game Recap Home Slider Jet News
Jets Fall to Bills 28-9, Finish Season 6-10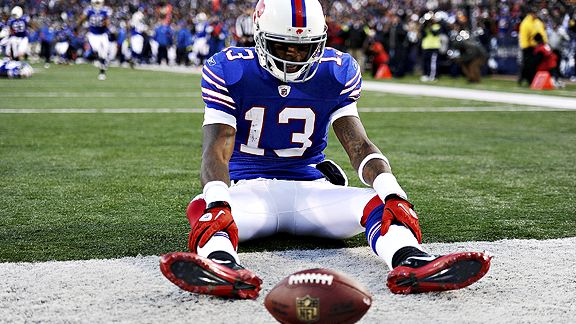 The Jets season finale was about as good as the rest of their season, as they lost in Buffalo for the first time in four seasons, 28-9.
Mark Sanchez returned as the starting quarterback, since Greg McElroy had a concussion. It was like Sanchez was never gone, really, and he'd made no great improvements. He had his usual interception – a pick-6 – and fumble and terrible numbers. He was 17-35 for 205 yards and no touchdowns with a rating of 55.1.
Sanchez might be the most frustrating quarterback alive. Only he could throw a perfect 40 yard pass to Jeremy Kerley while under pressure and then getting drilled (offensive line needs help!), and then throw the ball straight into the ground. Sanchez's future with the franchise is uncertain, but after the game, Sanchez made it clear he wanted to stay. "I mean, I'm contracted here, I want to be here. That's all I've known is a Jets uniform. I plan on playing here forever, so who knows?"
On the offensive bright side, Braylon Edwards, who Seattle thought wouldn't be able to play their last three games, made a number of good catches that required him to really go up for the ball. He had four receptions for 42 yards. Jeremy Kerley also had a good game, with three receptions for 88 yards. Shonn Greene and Bilal Powell split the carries, with Greene rushing for 74 yards on 19 carries and Powell rushing for 56 yards on 12 carries.
Braylon Edwards also made a plea to stay with the Jets after the game, one that had a lot more fan support. Edwards tweeted, "On another note I belong with the Jets and I know my work ethic and experience can be utilized."
The defense had a solid game, considering they were compensating for the offense's usual ineptness. Bart Scott led the defense with six tackles; David Harris had five.
With this season (finally) over, the Jets and their fans start looking towards 2013. Jets fans are looking forward to seeing General Manager Mike Tannenbaum canned on Monday – at least, that's what reports indicate. Offensive coordinator Tony Sparano is reportedly also on his way out.
If the Jets are stuck with Sanchez next year, and with his contract, chances are good they will be – it would be good for them to do things like find a new QB coach and a new WR coach. They're currently slated to pick 9th in the draft. And let's not even begin to list improvements that can be made on the roster.
Still, there's all offseason for those kinds of decisions. Right now, Jets fans can chill out and watch football games because they're good games and not because they feel obligated to watch the plane crash. They can also take comfort in the fact that Giants fans will not be giving them nearly as much grief this year.
Until next season, go Redskins.
Videos
Aaron Rodgers Injury Fallout & Jets/Bills Recap