Featured Editorials Home Slider
Jets Should Emulate Colts And Dolphins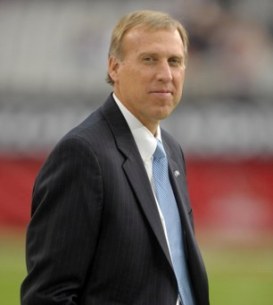 We often hear the Jets should try to emulate successful organizations around the NFL, Packers, Giants, Steelers, and Patriots when it comes to building their team.  It makes sense to look at other franchises building strategies but doesn't mean they need to copy others to have positive results.  Maybe just this year the Jets should duplicate the philosophy of two organizations, the Indianapolis Colts and Miami Dolphins, as both teams had poor 2011 seasons and decided to set up their finances for the long-term in 2012.
The Colts had a $90 million payroll last year, while the Jets spent $121 million, and finished 11-5 making the playoffs.  Yes 2012 first overall pick quarterback Andrew Luck helped but they purged their roster having almost $39 million in "dead money" salary which counts on a team's cap for players no longer there.
The Dolphins had a similar purging as receiver Brandon Marshall was traded to the Chicago Bears for a pair of third round draft picks (2012-13) and cornerback Vontae Davis was sent to the Colts for a 2013 second round pick.  They also released offensive linemen Vernon Carey and safety Yeremiah Bell, who ended up a Jet, leaving the Dolphins with $13 million in dead money on the 2012 books.  The team did finish with a 7-9 record but broke in a rookie quarterback and coach while looking far more competitive than they did the season before starting 0-7.
The benefit of using this strategy has been the salary cap space these two teams now have heading into 2013, $44 million (Dolphins) and $43 million (Colts).  By clearing out salary from high priced veterans while acquiring draft picks, whether by trade or potential compensatory picks via the NFL, they have set themselves up for the long-term at least in a financial sense.
These organizations will still have to make smart personnel moves as just having your finances in order does not guarantee success, see the Cleveland Browns $45 million in 2013 cap space, but financial flexibility allows a team options to retain players they want and acquire players they need.
The Jets built in an aggressive manner over the past few years signing free agents, trading draft picks for players who required large contracts and often trading up in drafts to obtain more ready-made players rather than developmental ones.
This aggressive philosophy has left the Jets $23 million over the 2013 salary cap.  They can release some players out of their contracts to improve the overall cap situation, Calvin Pace $8.56 (in millions), Bart Scott $7.15, Jason Smith $12.0, Tim Tebow $1.055, and Eric Smith $3.0, Sione Po'uha $3.835, total $35.6 million, but even after you save this salary the team will not have much space for free agency.
The Jets will likely tender two current restricted free agents, offensive tackle Austin Howard and tight end Jeff Cumberland, costing $2.65 million and replacing the other four roster spots will be $1.6 million at minimum.  So the Jets $23 million over, minus $35.6 puts them $12.6 million under, then add the 6 new players salaries $4.25 million and the Jets end up $8.35 million under the salary cap after these likely moves.
Thinking long term the team will need about $2.5 million in cap space for the 2013 draft class and another $1.5 million when the season starts as only 51 players count on your salary cap during the off-season while 53 and the practice squad salaries count during the year.  That leaves about $4 million to spend on free agents.
Of course there are many ways to restructure contracts to create cap space.  Just look at the wonderful contract extension the Jets gave Mark Sanchez that saved $6.4 million on the 2012 cap, which the team is now choking on.  The Jets need to "bite the bullet" for their lack of financial discipline and hold money in 2013 grabbing control of these high priced player's contracts and open up cap room for the future.  How about being $10-15 million under the cap before the start of a new league year instead of $20 million over?
The Jets don't need to completely gut the team instead take a fiscally responsible approach as artificially creating cap space in a "Sanchez like manner" will only lead to year-in year-out financial issues.  Simple pushing money forward, worrying about it later, is not currently a prudent choice but getting younger, cheaper and hungry players, underpaid overachievers rather than overpaid underachieves, will actually provide better results this season and stability moving forward, just look at the Colts and Dolphins.  Bet the fans of those two teams thought they'd be terrible given the difficult decisions made but now their futures are bright.
If Mark Sanchez and Darrelle Revis move on after the 2013 season, assuming Revis is not traded before June 1st, the Jets will be looking at $13.8 million in dead money putting the team behind before next season even starts.  This is only one of many reasons why the Jets need to start cleaning their finances now.
There is no one strategy which guarantees success otherwise certain team won't be consistent winners while others struggle but it will be up to general manager John Idzik to have a budget, stick to it and make tough long-run financial decisions.  Hopefully through Idzik's leadership the Jets will regain control of their finances allowing the flexibility to build a long-term winner.
Videos
Aaron Rodgers Injury Fallout & Jets/Bills Recap