Home Slider Jet News Transactions
Jets Tender RFA TE Cumberland & RT Howard, Restricted Free Agents Explained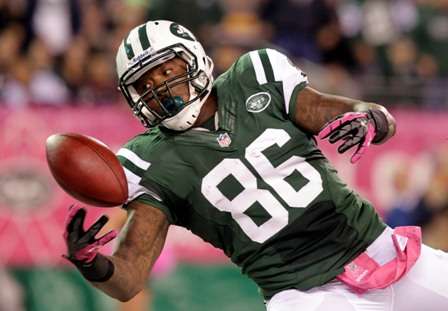 The NFL's 2013 league year begins Tuesday, March 12th at 4:00pm (EST) and marks the opening of free agency.  The Jets have made a few contract moves before the new year begins.
Restricted free agent tight end Jeff Cumberland was given a "qualifying offer" or tender, which is an unconditional contract offer.  The Jets had to make this offer before the new league year starts otherwise Cumberland would become an unrestricted free agent and the Jets lose the ability to restrict him.
Since Cumberland is no longer under contract but has only three accrued (earned) seasons of NFL experience he has a restricted free agent status.  NFL salary rules allow the Jets to give Cumberland a tender and they have certain rights towards him dependent upon the tender chosen.
The Jets tendered Cumberland at a salary of $1.323 million or the lowest level (right-of-first-refusal), meaning other teams can negotiate with Cumberland but the Jets can match any offer retaining him.  This tender also includes the player's original draft round level compensation but Cumberland was undrafted so the draft pick compensation does not apply here.
There are two other tenders a team can place on a restricted free agent and while they cost the acquiring team a draft pick the salary amount of the tender increases.  The highest tender includes a first round compensation and the salary is set at $2.879 million.  A team would receive a first round pick from anyone who signs the player and the original team would have right-of-first-refusal.  The middle tender is a second round pick compensation and the salary offer is $2.023 million along with right-of-first-refusal.
Cumberland had 29 receptions for 356 yards last season and it is doubtful he'll receive much interest from another club which is why he got the least restrictive tender.  If he signs the Jets offer Cumberland will get a $1.323 million non-guaranteed base-salary paid throughout the season for 2013.  Often a team can negotiate the salary lower by offering a signing bonus, guaranteed to the player, with a lower base salary which is not guaranteed.
Example: Cumberland signs a one-year contract with a $450,000 signing bonus and $630,000 base salary, total $1.08 million, saves the Jets about $250,000 over the tendered offer.
Now the player receives less than if they took the tender offer and played out the season but is guaranteed $450,000 as their base salary is not guaranteed nor will it become guaranteed even if he makes the roster for the first game.  Only "vested veterans", a player with four or more accrued seasons, are eligible for "termination pay" if they are on a team's roster starting a season than their base salary is protected (paid) if released.
Jets 2012 starting right tackle Austin Howard is a restricted free agent and was undrafted like Cumberland.  The Jets have to decide whether to give him the lowest offer or possible a higher tender.  All tenders count on the team's salary cap so while having a higher tender protects the player from being taken it uses more salary cap room.
The Jets have resigned linebacker Josh Mauga who appeared in five games last season before ending up on injured reserve.  Mauga was a restricted free agent but opted to sign back with the Jets since they were not going to tender him.  While terms have not been disclosed Mauga likely accepted a one year contract at his minimum base salary, $630,000 non-guaranteed.
Long snapper Tanner Purdum is the only other Jets restricted free agent and is not expected to receive a tender.
If no other contract changes occur before Tuesday the Jets will have approximately $7 million in unused salary cap space heading into the free agent signing period.
UPDATE: Jets have tendered right tackle Austin Howard at the second round level ($2.023 million):
#Jets tender RT Austin Howard at 2nd round level.

— Rich Cimini (@RichCimini) March 11, 2013
The Jets now have approximately $5.25 million in salary cap space heading into the start of free agency.
Videos
New York Jets OTA Presser Takeaways, Aaron Rodgers' Impact and Summer Delusion