Idzik, Bradway, Bauer Talk Draft, Revis And Tebow At Press Conference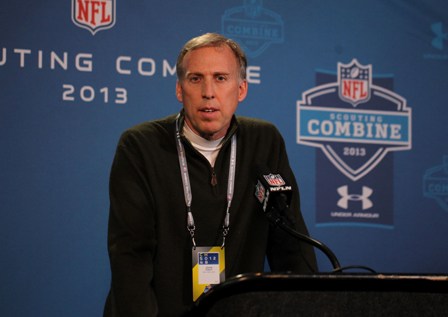 The New York Jets had a pre-draft press conference today with General Manager John Idzik, Senior Personnel Director Executive Terry Bradway and Director of College Scouting Jeff Bauer but most of the questions asked of the trio were not in regards to the draft.
Bradway talked about the draft evaluation process saying, "1,426 players we evaluated, we visited 271 schools, wrote over 5,000 reports, conducted over 300 interviews." 
Once the meeting was open to media questions the topic rapidly turned from the draft to the Darrelle Revis trade situation.  Idzik said he had a "nice talk" with Revis but "we keep conversations amongst ourselves."  He went on to say that with the opening of the offseason program "we can actually see our players."
There have been blatantly inaccurate reports that the Jets were "forcing" Revis to attend voluntary workouts.  Idzik disputed this saying, "Whatever is best of Darrelle and his rehab the Jets will whole heartily support."  Idzik did mention the importance of being able to see the rehabilitation of a player "firsthand" as definitely being "a plus."
Idzik often repeated that much information would remain internal but he was "pleased" with where Revis was with his injury recovery.  When asked about the draft process and what would happen with "Darrelle" Idzik said, "We're not going to get into specific cases."
Idzik was asked about possible trade talks with the Tampa Bay Buccaneers and if Darrelle Revis would be on the Jets roster when the season begins.  Idzik said, "I don't like to get into speculation or percentages or what's your gut-feel."
The panel was asked about the perception that the current draft was weak at the quarterback position.  Idzik talked about his experience last year with the drafting and development of quarterback Russell Wilson who was a round three pick . Wilson started as a rookie and led the Seattle Seahawks to the playoffs.  Idzik pointed out that you may not really know how good a particular player is until you get them "on campus."
There has been much speculation about the future of quarterback Tim Tebow as a New York Jet.  "Were happy to have Tim here," Idzik said. "We have to let things take there course and see how they play out."
It is likely Tebow will be released by the Jets after the upcoming draft as the team is still trying to trade the quarterback.
Videos
Aaron Rodgers Injury Fallout & Jets/Bills Recap