Rex Ryan On The Revis Trade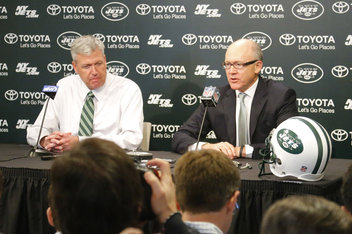 Rex Ryan spoke about the Darrelle Revis trade today.
On how the trade can benefit the team in the short and long-term…
Rex Ryan: Well, again, I think there's a lot of ifs on a lot of fronts there.  Why don't we get through the draft and then we'll see how everything starts going into place.  A lot of decisions are made. As I mentioned before, we will play great defense here.  I don't think that's even a question.  We're a football team that has a No. 1 corner.  We're fortunate to have Antonio Cromartie here.  So there (are) a lot of factors that go into every decision, as we've mentioned, but again, when you look at the process and the things that John talked about before, that's why the trade was made.
On whether the trade makes the team better…
Rex Ryan: Well, again, nobody can tell, 'How does a trade make you better, make you worse, are you talking about for one week, are you talking about a season, are you talking about a future?'  I mean, nobody really knows.  Nobody has the answer to that.  We don't even know who we're going to select at those picks.  So a lot of things will be decided. I will say this, and I mention it over and over again:  We will play great defense to the New York Jets standards, and that's how I've approached it from the day I took this job.  I knew it would happen, and I'm telling you it'll happen again.  We will play great defense, continue to play great defense, and that's not a slight to Darrelle Revis whatsoever.  Darrelle Revis is a tremendous player, he's been a tremendous player, and I think he'll continue to be one, as well.
On Coach Ryan's input on the trade…
Rex Ryan: Well, no, I can tell you this:  It doesn't come as a surprise.  This has been talked about, as John has said.  We've been discussing the possibilities of a trade with Darrelle, and I was involved in the entire process.  And again, you look at the big pictureas we've talk ed about short‑term and long‑term.  I think this, as in all good trades, will benefit both teams.  Darrelle Revis was an outstanding player for us, for myself since I've been here as a head coach.  He was tremendous.  And as John talked about earlier, he gave everything he had to this organization, was a tremendous player. You go back, I don't take back one word that I've ever said about Darrelle Revis.  I believe that he is the best corner in football without question.  But make no mistake; as I mentioned the day I took the job five years ago, that we will play great defense, and the standard we've set as the New York Jets will not be diminished.  We believe that we will have an outstanding defense this year and in the future, as well.
On remarks at the combine that he had not discussed trading Revis with anyone and when he was brought into the loop about a potential Revis trade…
Rex Ryan: First off, I never had one conversation with any other team, any coach, any general manager, anybody directly, absolutely no conversation whatsoever.  My conversation was with John when he discussed a possibility that a team was very interested in Darrelle, and that was when I guess you could say I was brought in the loop. But as far as myself having a conversation with anybody in another organization, (I) absolutely had zero contact with anybody.
Videos
Aaron Rodgers Injury Fallout & Jets/Bills Recap