Featured Editorials Home Slider
Wide Receiver Woes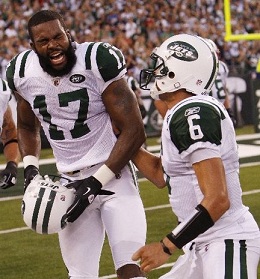 Wide receiver is a position that most Jets fans are concerned about as the team prepares for the 2013 season.  Rex said today that Santonio Holmes might not be ready for the beginning of training camp.  Jeremy Kerley seems ready to break out under new offensive coordinator Marty Mornhinweg.  The depth beyond Holmes and Kerley is a big bet unless you believe that Stephen Hill or Clyde Gates is ready to produce immediately.
Rex Ryan addressed the media after an open OTA session on Wednesday and spoke about his wide receivers.
On the status of the wide receivers…
Stephen [Hill] should be back. You know him and (Clyde) Gates I think will both be back next week. You know Stephen actually had some swelling in his knee. It's kind of a precaution, he dove for a ball. Sometimes we talk about taking care of each other. You have to take care of yourself too. (There is) sense in him doing that. So he kind of had some swelling in the knee. We'll bring him back and Clyde Gates had a little hamstring. He tried to come back but we'll bring him along and hopefully get him out there next week. And then as far as Jeremy [Kerley], Jeremy hasn't missed anything. Today, he had a little bit of a heel issue. We ended up backing him down. And of course Santonio [Holmes], he's doing a decent job, we'll see how he's doing for training camp. Maybe there's a possibility he starts out on PUP, I am not sure but he seems to be doing well here.
On the difficulty in accessing the wide receivers due to injuries…
Well I mean that's brutal. If we had to play, again, there would be major concerns. If we had to play this week, now some of those guys would probably be able to play. But again, obviously you're going to look a lot different when your top four guys are out there than you would right now.
On evaluating the wide receivers…
They haven't been hurt the whole time. We had some guys that were really making strides, I thought. I really liked the way Gates was progressing and Stephen Hill was really progressing, I thought. That was really encouraging to see. Obviously both those two guys have top-end speed with anybody in the league. You're looking at two guys (we) really want to take a jump, those two we want them to take a big jump and we need them to. That hasn't changed. We saw some of it coming and then obviously with them having to back down through OTAs it's been disappointing.
With all these concerns at wide receiver, the question remains, how come Braylon Edwards isn't on the New York Jets roster?
Videos
Aaron Rodgers Injury Fallout & Jets/Bills Recap