Home Slider Jet News NY Jets Training Camp
Day One: Minicamp Report – Sanchez Struggles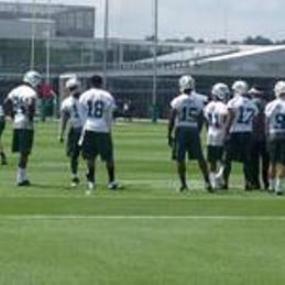 Today was the first day of the New York Jets mandatory minicamp and as usual the quarterback competition took center stage.  It appeared from the opening throws that Geno Smith was heading for a better practice then Mark Sanchez.
Smith's passes were crisp, had more zip and he looked more comfortable within his progressions.  Sanchez was inconsistent throwing into coverage, often staring at receivers and throwing more than one pass to far off-track to know who it was intended for.
While this is only one practice it will be interesting to see how Sanchez responds tomorrow as he was clearly outplayed by Smith who often ran with the second string. 
The other QB battle has Matt Simms ahead of Greg McElroy working with the third string leaving McElroy with the fourth.  Neither back-up did anything worth noting but wonder if McElroy has fallen out of favor given he's behind Simms?
Recently invited tryout tight end Kellen Winslow was impressive during the practice.  He ran well looked fast and didn't seem to be hampered by a lingering knee issue he's had since a 2005 motorcycle accident.  Winslow caught the ball, in stride, ran after the catch and had some nice route running gaining separation.  He even carried once on an end around. 
Wide receiver Stephen Hill while participating looked as if he was favoring an injured knee while dropping a very makeable catch.  Jeremy Kerley was the most consistent WR on the day, catching lots of balls, being open down the field but missed a long reception after being interfered with.  Ben Obomanu looked like a guy who has been in the league seven years a smooth route runner while catching passes during practice.  Tryout WR Mike Sims-Walker had some good plays but didn't look up to speed on a nicely thrown deep pass by Smith just off the finger tips. 
The receiver group as a whole was a bit disappointing as many well thrown or even catchable balls were allowed to hit the ground (mostly Smith's passes).  It is easy to understand why the Jets have brought in some veterans to try and strengthen this position.
The running backs group is faster and more explosive than last season as Chris Ivory showed off "the wheels" on some runs along with Mike Goodson. 
RB Joe McKnight worked on fielding punt returns along with Kerley.  It is hard to imagine, as has been suggested, that McKnight does not retain a roster spot given his versatility.
The defense as a whole has more quickness and athleticism. The fluid moment along with the pursuit speed of linebacker Demario Davis really stood out.  Quinton Coples lined up at both defensive end and outside linebacker.  Rookie Sheldon Richardson was moved around some but the LDE – Richardson, NT – Kenrick Ellis and RDE – Muhammad Wilkerson with Antwan Barnes and Coples standing up on the outside appeared to be the pass-rush alignment. 
The cornerbacks played well as Antonio Cromartie blanketed receivers. Dee Milliner was limited while still recovering from injury but did say, he'd be ready for training camp, when asked after practice.  Darrin Walls had a few stand out plays with some fast break-ups of pass attempts. 
Safeties Dawan Landry and Josh Bush ran with the first team while Jaiquawn Jarrett and Antonio Allen were with the twos but Allen was worked in with the first team.  Bush did allow a receiver deep much to the dismay of the coaching staff.
Make sure to follow @Jetnation on twitter tomorrow (11:30am) for more live updates from day two of minicamp and another camp-report after practice concludes. 
Videos
Aaron Rodgers Injury Fallout & Jets/Bills Recap